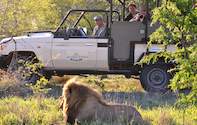 Game drives are offered daily, in the early mornings when predators still roam and in the late afternoons-early evening when nocturnal creatures come out.
Evening game drives include a stop for sun-downers to stretch your legs and watch the sun set over the horizon – this experience will most definitely be a highlight of your safari in Kruger Park. Spotlights then come on and the drive continues into the night, a wonderful opportunity to see the animals that are active under the cover of darkness.
After dinner you can drift off to sleep to the sounds of the night, maybe even a Lion roaring in the distance or a hyena laughing the night away.
During the warm summer days you can cool of in the sparkling pool or relax with a good book in the comfortable lounge of the main tent. Perhaps sit out on the deck and see what birds you can spot, or see if any animals come down to the river to drink.
You do not need activities to keep you entertained, staying here is all about spending quiet time in the bush with a loved one, putting up your feet and recharging properly with time at leisure aplenty.