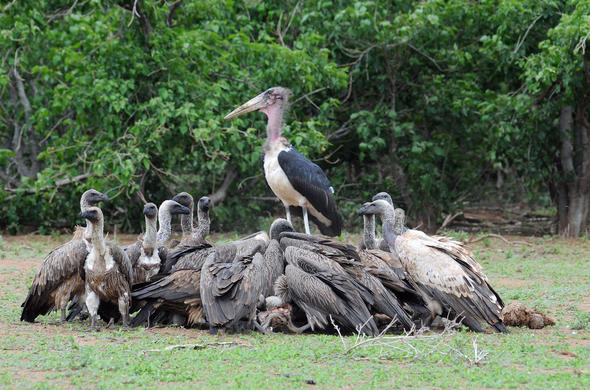 Maribou Stork and Vultures. G Cooke
Orpen to Skukuza The most direct route between Orpen and Skukuza is the Nhlanguleni Road (S36), the dust road that bypasses Tshokwane and joins up with the H1-2 just north of Skukuza. Alternatively one can take the main road to Satara (H7), then south along the H1-3.About the Grasslands
Orpen Gate
Orpen to Olifants
Orpen to Satara
Orpen to Skukuza
Satara and Surrounds
Satara to Olifants
Satara to the Lebombo
The Central Lebombo
The Mluwati Concession
See a
map of the Central Grasslands region of Kruger Park
Orpen to Tshokwane (S36)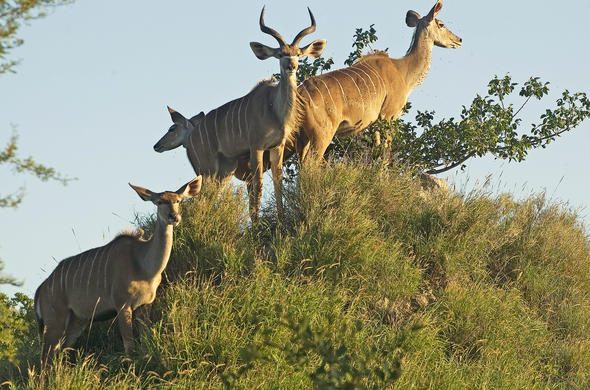 Four kilometres after Bobbejaanskrans is the Nhlanguleni Road (S36) that heads south through mixed bushwillow woodland on a two-and-a-half hour drive to Tshokwane. In Shangaan, nhlanguleni means "at the magic guarri". The gaurri is also known as the "toothbrush tree", because the ends of twigs fray into natural toothbrushes. The fruit is used as a purgative by local traditional healers.
This landscape is primarily sourveld and, therefore, not generous in game-viewing opportunities, although there can be sightings of buffalo, zebra, kudu and giraffe. However, it is a good road for seeing bateleurs and other birds of prey soaring high above the bush.
This is not a highly trafficked road, so it is a good choice if one wants to get away from other tourists. There are two get-out spots on this road at Muzandzeni and Nhlanguleni, which provide a respite from driving. Look out for Africa's fastest antelope, the tsessebe, around Muzandzeni. They are relatively rare in the Park and occur in isolated herds in the central and northern parts of Kruger.

Vultures of Central Kruger
The grotesque appearance and scavenging nature of vultures often repels humans. However, these raptors play an essential role in keeping the savanna free of disease through their speedy and efficient disposal of carrion. Central Kruger is the best place to see vultures in Kruger because of the high ratio of predator kills.
Where the S36 is interesting, however, is that it feeds off into three smaller roads that follow riverine bush back into the lion country south of Satara Rest Camp. These are the S126 that follows the Sweni River, the S125, which traces the N'waswitsontso River back to the main Tshokwane-Satara Road, and the Vutomi Loop.
All three are good game-viewing roads because the mix of riverine bush and more nutritious grazing attract more animals, including predators such as lion and hyaena. The thorn thickets can be quite dense in summer, which makes game viewing more difficult. This whole area has been a traditional winter feeding ground for herds of impala, zebra and wildebeest. The S36 also takes one into the
Mluwati Concession area
.
The White Lions of Timbavati

Timbavati is the name given to the Kruger's famous "white" lions. (Pictured above). There had been itinerant reports of "albino" lions in the Park since 1928, but it was only during the 1970s that naturalist Chris McBride discovered two white lion cubs in the Timbavati Reserve bordering Kruger.
They were captured
and taken to Pretoria Zoo where both subsequently died. However, a few years later, there was another sighting of white lions, with confirmed reports of a great white male lion in the Tshokwane area.
Since then,
there have been numerous records of white lions being seen in the Park, and it is believed that this genetic phenomenon will surface from time to time in the future. The colouring of these white lions is not strictly albino - which is an absolute lack of pigmentation, but is a very light colour stemming from a rare gene that is found in both male and female lions.
When lions carrying these genes
mate, the result is a white cub or cubs. Lion reproductive patterns show that females are the constant element in a pride and that it is males that go to other prides to seek a mate. If the male lion mates with a female carrying the same recessive gene, then they will have a single - or several - white cubs in among the other tawny-coloured cubs in the litter.
This phenomenon
seems restricted to the Tshokwane/Letaba/Timbavati areas. Interestingly, in the same area, there have been validated reports over the years of at least three other "white" animals - a kudu, a buffalo and a giraffe.