Game Drives around the Skukuza Area
Skukuza is the "capital" of Kruger and an excellent camp for the first-time visitor to get acquainted with the history of the Park and the scope of activities on offer. It is the Park's largest camp, bustling with activity, and the centre of administration and scientific research.
Skukuza offers all the facilities of an established village, including restaurants, police, medical and emergency vehicle repair services. It has the best shopping in the Park and there are a range of activities to keep one entertained during the day while the animals are resting.
A relaxing way to acclimatise to Skukuza is to spend half-an-hour ambling along the tree-lined walkway along the edge of the camp overlooking the reedbeds and sandbanks of the Sabie River. There is often game flitting through the mixed riverine woodland on the banks, and elephant and buffalo regularly come down to the river to drink in front of the camp.
Guests at Skukuza on Christmas Day in 1971 received an interesting present from the Park. A leopard brazenly killed a waterbuck on the river sandbank right in front of the camp restaurant. A day-visitor's area near the main camp has a swimming pool and braai facilities.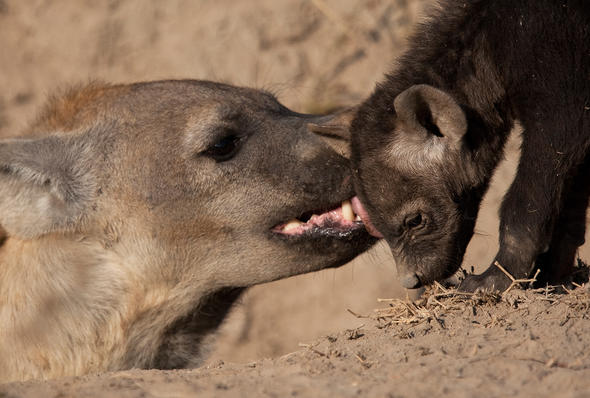 Female Hyena
Spotted hyaena females are considerably larger than the males. Females are also masculinised due to having more testosterone in their bodies than most male hyaenas.
As a result, females dominate the social hierarchy, are more aggressive, and have a penis-like clitoris. Also, their vulva is fused to look like a pseudo scrotum and testes, making it extremely difficult to determine the sex of a hyaena.
Golf at Skukuza Camp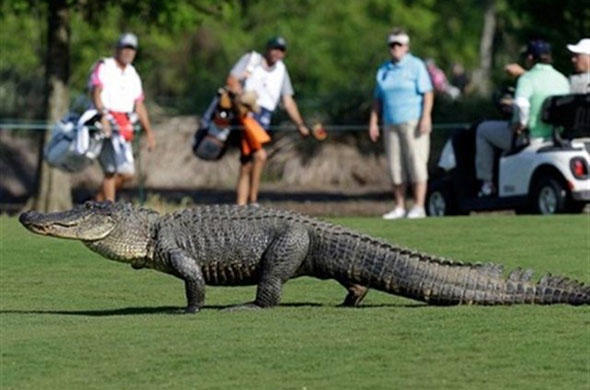 Skukuza course is the only golfing facility in Kruger itself. It is a 72-par, nine-hole, 18-tee course a few kilometres from Skukuza on the road to Paul Kruger Gate. The course is as close-to-nature as one gets, with beautiful bushveld trees, wonderful birdlife and views over Lake Panic. The course is not fenced in, so a round of golf often provides animal sightings.
A lion once killed a buffalo on the first green and on another occasion, a honeymoon couple's golf game was interrupted by a pack of wild dogs chasing an impala across the course. Parks staff, however, do keep an eye on the area to keep dangerous animals away, and no golfers have ever been harmed by wild animals.
Nonetheless, an indemnity form must be signed before teeing off. One should book early to avoid disappointment, and enquire about green fees when making reservations. Standard golf dress code applies. No caddies are available but there are golf trolleys for hire. The course is closed on Mondays.
Tee-off times between 07h00 and 11h30 Sundays to Fridays.
Tired of Driving?
One of the downsides of the Kruger experience can be the amount of time one has to spend in one's vehicle. If one is tired of driving, Skukuza is an ideal place to spend a morning or afternoon because the camp features:
The best shopping in Kruger for essentials, clothing, craft and curios;
Photograph processing and development facilities;
An open-air amphitheatre where wildlife movies are shown every night except Sundays;
Restaurants and fast-food outlets;
Plenty of space to walk around - including a walk along the banks of the Sabie River;
ATMs
Post office;
Internet facilities;
Car hire, car wash and vehicle repair facilities;
A resident doctor and pharmacy;
The Stevenson-Hamilton Memorial Library, which is more of a museum than a library, stocking a wealth of memorabilia used by rangers, as well as stone tools and other exhibits;
The Campbell 1929 Hut Museum which preserves the oldest hut in Skukuza (S1) to show tourist accommodation in the old days;
A swimming pool; and
Activities for children, including touch displays and organised outings.
There is also the Skukuza nursery a few kilometres from the camp that stocks a wide variety of indigenous plants, and a pleasant hour can be spent at the bird hide at Lake Panic.