Field Guide Trail Guide Training Course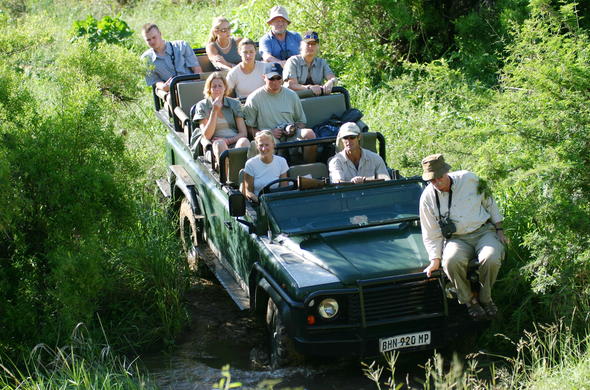 This programme is accredited by the Field Guides Association of Southern Africa and takes place at 2 camps, which collectively open their doors to 66 000 hectares of stunning wilderness landscapes teeming with game, including Elephant, Rhino, Lion and Leopard as well as antelope and a huge diversity of birds.
Karongwe Camp
Karongwe Camp is situated on the banks of the Karongwe River in the 9 000 hectare
Karongwe Game Reserve
, to the south-west of the Kruger National Park. Accommodation is in walk-in safari style tents with shared bathroom facilities.Karongwe is a good place for viewing Leopard, Lion and Cheetah as well as Elephant and white Rhino. As the camp itself is unfenced, four-legged guests often visit the camp.Hyena make nightly patrols of the camp and are often seen by students who choose to make one of the viewing decks their home for the duration of the course.
Elephant, Cheetah and Lion
have also made appearances on occasion.
Kruger National Park Camp - Makuleke Concession
This Kruger Park Camp is situated in the 24 000 hectare Makuleke concession in the far northern and most remote part of the Kruger National Park. The area is characterized by great biodiversity and a human history reaching to the remote past.Accommodation is in safari tents on wooden decks and are covered with thatch in
the shade of nyala trees
. Each unit has a verandah overlooking the bush and an en-suite bathroom with a flush toilet, shower and basin.Most of the animals that are found in the Kruger National Park, can be viewed in the concession.
Large herds of Buffalo and Elephant
are not uncommon and the birding in this incredible part of the Kruger National Park is unsurpassed. This camp is also unfenced allow animals free movement natural environment.
Typical Daily Programme
A typical daily programme at the camp follows a routine of rising early, usually before sunrise, enjoying hot coffee and biscuits while you listen to the bush waking up and then leaving the camp for an outing into the wilderness.The outings are extremely flexible and determined by the unpredictability of what is found during the outing in combination with the subjects that have to be covered. The outing could be a game drive following up on the roar of a Lion heard during the night or a walk
learning about the plant species
occurring in the area.It could be a walk following fresh elephant tracks, learning how to track the animal and finding it or it could be a game drive to a waterhole where animals come to drink.Students return to camp in the late morning for a hearty brunch which is followed by a lecture on the subject of the day. Study and rest time is then followed by afternoon tea and another
outing into the wilderness
until sunset, if walking, or until well after dark if doing a game drive.Afternoon outings could include night drives looking for nocturnal animals such as owls, bushbabies and leopards or it could be a walk looking for and learning how to identify interesting birds. It could be time spent studying the night skies or it could be a time for students to test their 4x4 driving skills.It is then back to the camp for dinner, stories around the campfire, discussing the day's experiences and wondering about tomorrow's adventures. The emphasis is on practical day-to-day experiences in the bush. The daily outings are flexible and may focus on specific subjects such as
animal tracks and tracking
, birds, plant identification or animal behavior, or may involve game viewing and learning about the ecosystem in general.
Eco-Training Level 1
The course is structured to maximize the practical experience of students in the bush. Each day allows for hours of time spent in the field interpreting the ecology and enjoying a wildlife experience.Activities alternate between walks and driving. Lecture time follows after brunch, which involves topical instruction (lectures) and discussion on the subject of the day. This is followed by time for self study for the students.
The following list of subjects are covered:
Welcome and introduction
Introduction to guiding in the natural environment
Creating a guided nature experience
Geology
Astronomy
Weather and climate
Basic ecology
Basic Taxonomy
Introduction to the Biomes of Southern Africa
Botany and Grasses
Arthropods (Insects and relatives)
Amphibians
Reptiles
Fish
Birds
Mammals
Animal behaviour
Conservation management and historical human habitation
Additional Activities:
Basic 4x4 driving
Sleepout in the bush
Basic rifle handling
Tests, presentations and evaluations
Tests and Evaluations
The following tests and evaluations are optional for international course participants. If you choose not to do these tests and evaluations, we will still give you a "Certificate of Attendance" when you complete the 4-week course.
3 x Written tests
2 x Oral presentations
2 x Practical evaluations: Walk evaluation & Game drive evaluation
Eco-Training Level 2
The aim of this course is to develop and practice skills and knowledge learnt on the Level 1 course. It is conducted in a different, wilder area and is therefore more "real". 60% of the time is spent on foot and 40% in the vehicle. This course gives grounding to conduct bush walks in big game country and has an emphasis on safety.Students will be expected to show leadership and decision-making skills and that they are responsible and accountable for their actions in the field. Student participation in the care of the camp, equipment and vehicle will be expected. Students will be expected to pay attention to the needs of fellow students and to work in teams.
The following list of subjects are covered:
Introduction to Level 2/Trails Guide course
Advanced navigation and orientation
Tracks and tracking
Survival and bush skills
Walking in big game country
Situational awareness
Weapon handling
Wilderness concept
Birding and bird identification
Conservation
Animal encounters training
Animal behaviour
Dangerous animal knowledge and behaviour
Palaeontology
Presentations, theory tests, practical assessment and FGASA assessments (where applicable).
Please Note
For more information regarding further FGASA qualifications (after Level 1), please contact your booking consultant.
Included
Meals
Game drives
Walks
Lectures
Not Included
Transfers/transport to and from the camp, before and after the course
Any accommodation before and after the course
Drinks
Laundry
Kruger National Park entrance fee (only applicable to the Level 2 course)