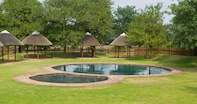 Satara Rest Camp is situated near the centre of Kruger Park, South Africa where Lion can easily be spotted. Satara is the third largest rest camp in the park. The closest entrance gate is at Orpen Gate and Johannesburg is a 5 hours drive from Satara.
Satara Camp is situated in the centre of the park in the middle of a flat plain of tall tree Savannah in Kruger Park - South Africa, of which Knob Thorn and Marula are the dominant species.
Satara Camp's closest entrance gate is at Orpen, which can be reached from Johannesburg by road in a just over 5 hours. Eastgate Airport is situated 68km (42.2 miles) from Orpen Gate and served by daily flights from Johannesburg and Cape Town.
Transportation routes and times from Johannesburg/Pretoria
Orpen Gate:
Head toward Nelspruit on the N4, take the R540 Belfast turn off. At Lydenburg turn left onto the R36 heading north. 30km before Hoedspruit turn right onto the R531 and head to the gate. Allow between 4 to 5 hours for the trip to the gate. Satara Main Rest Camp is 48km away from the gate. Allow about 2 hours for the drive to the camp; however if you want to enjoy the game viewing possibilities give yourself more time in the Kruger Park - South Africa!
Read more about Satara Camp game viewing routes
Vegetation
Satara in Kruger Park, South Africa like most camps has been artificially well wooded.The surrounding vegetation is knob thorn and marula savannah on basalt soils. A few kilometres west there is an intrusion of ecca shales soil which hosts very sweet grass often overgrazed. This intrusion also hosts Delagoa thorn thickets. To the east, the N'wanetsi region lies in Lebombo Mountain Bushveld on rhyolite soils. Tree euphorbia and red bushwillow are prevalent in the Kruger Park in South Africa.
GPS Co-Ordinates
-24.392580 S
31.779530 E