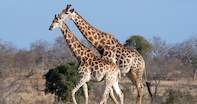 Plenty of activities like bush barbecues and traditional dances complement the game viewing. See documentary films at the Open Air Theatre. Satara is the best camp for viewing lion, leopard and cheetah and there are good bird watching opportunities from the Sweni Bird Hide.
Because this fertile grazing land attracts vast herds of antelope and other grazers, the large cats that prey on them are in abundance for you to see on your South Africa safari. Satara Camp stakes its reputation on being one of the best spots in the world for viewing Lion, Leopard and Cheetah. Satara Camp is often referred to as the 'cat camp' because of the large numbers of Lion and Cheetah in the area, and is for this reason that Satara is such a popular camp.
Large cats are frequently spotted in the Muzadzeni area, where a large and successful Lion pride operates, or along the 5100 route that runs east from Satara Camp, hugging the bank of the N'wanetsi stream. This stretch is especially productive in winter when the veld is dry, and Lion and Leopard lie waiting to ambush thirsty Antelope that swarm in large herds to drink at the few remaining pools of water. Although there are no major rivers, there are watercourses lined with well-developed trees. There are 3 dams and 6 waterholes in the area, offering you plenty of opportunity to spot the Big Five.
Night drives allow you in on the nocturnal activities of Kruger's secretive creatures while in the company of experienced guides and trackers. Guided bush walks on this South Africa safari with trained field guides who take groups of up to 8 people out into the bush for a few hours are not to be missed. Learn and observe fascinating facts about the African bush. There are also regular game drives.
Please Note:If you must walk at night please do not do so without a torch.
Wildlife
Satara is regarded as one of the best game viewing areas in the park and is particularly noted for the big cats, with lion, leopard and cheetah recorded regularly. General game includes Blue wildebeest, zebra, waterbuck, giraffe and the ubiquitous Impala. Rhino, buffalo and elephant are also easily seen. Of the smaller animals, the Honeybadger is something to look out for on this South Africa safari. At night spotted hyena regularly whoop from the camp's perimeter while the repetitive sonar chink of fruit bats blends with the chirp of cicada and cricket.
Birding
Satara, like other camps, has a plethora of resident birds. Particularly prominent are Red-billed buffalo weaver, glossy, greater Blue-eared and Burchell's starling and mourning dove. At night, giant eagle, barn, scops and pearl spotted-owls can be seen and heard in the camp, on your South Africa safari. The open plains to the north of the camp are a good place to record Montagu's and pallid harrier for a South Africa safari.
In summer, after heavy rain, the high water levels reduce the bird-life. However, it is an excellent venue to see Blue-cheeked bee-eater that is regularly in attendance.
5 Things To Seek
Red-billed Buffalo Weaver
Lion
Giraffe
Blue Wildebeest
Honeybadger
Satara Camp has a restaurant where those who don't feel like cooking can relax and be served. There is also an open-air theatre where wildlife documentaries are shown for an educational South Africa safari.
These activities can only be booked in conjunction with confirmed accommodation bookings.