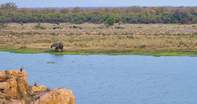 Letaba Rest Camp, one of the oldest and largest camps in the Kruger Park - South Africa, is situated on a sweeping bend of the Letaba River. Many large predators in the vicinity make this ideal game viewing territory.
Visitors to Letaba Camp can enter Kruger Park, South Africa through the Phalaborwa Gate. The journey from Johannesburg to Phalaborwa Gate takes about 5 hours. The closest rest camps are Olifants, 32km (19 miles) to the south and Mopani, 47km (29 miles) to the north.
Letaba's strategic position makes it an ideal stopover for anyone travelling the length of the Kruger Park, South Africa. The Phalaborwa Kruger Park - South Africa Gateway, is just 4km (2.5 miles) from the Phalaborwa Gate.
The camp is situated on a bend on the southern bank of the Letaba River and is one of the oldest and largest camps in the Kruger Park, South Africa. It is only 50km (31 miles) from the Phalaborwa Gate and 32km (21 miles) from the Olifants Rest Camp. The name Letaba is derived from one of the local languages, Sepedi, and means 'sandy river'.
In the Letaba District there are actually 3 rivers bearing the same name, the Great Letaba, the Middle Letaba and the Small Letaba. They eventually become the Letaba River which joins the Olifants River in the Kruger National Park on its way to the Indian Ocean. The Letaba River is a flat area with dense Mopane Shrub and little grass.
Travel routes and times from Johannesburg/Pretoria
Phalaborwa Gate Take the N1 toll-road to Polokwane (Pietersburg). Forty kilometres (24 miles) before Polokwane turn right onto the R71 and head for Tzaneen. After Tzaneen head towards Phalaborwa and the gate.
Allow between 6 to 7 hours for the trip to the gate.
Letaba Main Rest Camp is 51 kilometres (31 miles) away from the gate. Allow about 2 hours for the drive to the camp, however, if you want to enjoy the game viewing possibilities, give yourself more time.
Read more about game viewing routes around Letaba
Climate
Kruger Park, South Africa is in a summer rainfall area. Such precipitation is usually convectional and can result in heavy downpours. The summer months (October to April) are hot and often balmy. Winters are warm and mild, although visitors going on night-drives will require warm clothing.
Vegetation
Letaba is a riverine camp and well foliated. There is a wonderful selection of trees and shrubs including sycamore fig, impala lily, common coral tree, lala palm and leadwood. The vegetation around the camp is mopane shrubland.
GPS CO-Ordinates
-23.851020 S 31.576730 E