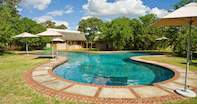 Letaba Camp provides ample opportunity for bird watchers and excellent day and night game drive safaris in Kruger Park. Activities include afternoon walk, bush braai, dawn drive, morning walk, night drive and sunset drive.
In planning a safari itinerary in Kruger Park such as a game-viewing drive from Letaba, take into account that animals are drawn to water, and the consequent confluence of three major dams (Mingerhout, Engelhardt and Nhlanganini) may bode well to your hopes of making exciting game spotting during game viewing safaris in Kruger Park.
The Matambeni hide on the northern bank of the Engelhardt dam offers a particularly good vantage point from which to brush up on your knowledge of water birds. You may also wish to consider heading for Malopenyana and Middelvlei to the north, where game viewing is consistently good.
Wildlife
Most of the Kruger National Park's larger mammals can be seen in the Letaba vicinity, although it is not a good rhino country. However, elephant abounds, particularly in the Letaba riverbed itself. Waterbuck and Buffalo are also plentiful on safaris in Kruger Park.
Visitors need not even leave the camp to view these animals on safaris and suggested itineraries in Kruger Park and lucky visitors have been fortunate enough to witness Lion and Cheetah kills on the sandy riverbed in front of the restaurant complex.
The camp itself hosts a healthy population of Bushbucks who have become very tame and wander freely amongst the bungalows. Other camp residents include Tree Squirrels, Fruit Bats and Vervet Monkey; which must always be considered before leaving food unattended.
Birding
One of Kruger Park's many attractions is the rich bird life. Letaba has a varied bird population and is particularly good for viewing Owls. Pearl-spotted, Barred and Scops have been simultaneously recorded in a single tree, while Giant Eagle Owl is regularly recorded along the river itself. Scan all large riverine trees carefully.
Greencapped eremomela should be looked for in the camp and like most camps in the central and northern parts of the Kruger National Park, Mourning Dove is particularly prominent, as well as the Natal francolin, Arrow-marked babbler, Brown-hooded Kingfisher, Kurrichane thrush, Orange-breasted bush shrike and Red-headed weaver.
Birding along the river edge is always productive. The Matambeni Bird Hide on the northern bank of Engelhard Dam is an excellent place to watch water birds. On the south bank of the dam, a number of red-winged pratincoles appear annually to breed. They have also been seen on the sandbanks in the river in front of the camp. The Masorini Ruins close to the Phalaborwa Gate is a good venue to view Yellow-throated Sparrow, Mocking chat and Redheaded Weaver on birding safaris in Kruger Park.
5 Things to Seek
Bushbuck
Elephant
Lala Palm
Red Headed Weaver
Fish Eagle
Elephant Hall
Visit the Elephant Hall and enrich your knowledge on the elephant's social structure distribution and ecology, morphology and physiology, origin and evolution as well as their relationship with humans. There are 3-D displays giving an exciting visual in-depth background to elephants. The highlight of the exhibition is the impressive ivory collection, which includes the tusks of the legendary 'Magnificent Seven'. The hall also serves as a general ecological information centre.
Please Note
These activities can only be booked in conjunction with confirmed accommodation bookings. If you must walk around at night, please do not do so without a torch.