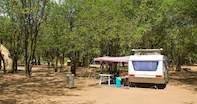 Letaba Rest Camp provides guests with comfortable self-catering Kruger National Park accommodation ranging from Guest Houses to budget Safari Tents.
Letaba Camp Accommodation Overview
86x Round walled, single room Bungalows with air conditioning
10x Guest Cottages with multiple Bedrooms
2x Self-catering Guest Houses for larger Groups - Fish Eagle and Melville
10x Budget permanent furnished Safari Tents with communal ablution and cooking facilities
5x Rustic Huts with communal ablution and cooking facilities
60x Tent or Caravan Camping Sites with power point and communal ablution and cooking facilities
Letaba Camp comprises of guest houses, cottages, bungalows as well as huts, tent and caravan sites and furnished safari tents to choose from. All units are serviced daily and supplied with bedding, towels and soap.
The fifth largest rest camp in the park, Letaba Camp has a wonderfully relaxed atmosphere. The units are comfortably spread out in spacious semi-circles facing the wooded lawns and the river beyond.
Letaba Rest Camp had been overhauled in recent years, and one of the most noticeable changes has been the upgrading of the camping site, with its expansive lawns, shady trees and spotlessly clean ablution blocks. Some visitors set up camp right against the fence, hoping for a close view of the game outside, such as the Spotted Hyena that readily patrol the boundary at night.
Bungalows
The Bungalows at Letaba's Kruger Park accommodation are air-conditioned and most have 3 beds, en-suite shower and toilet. All the units have a fridge, but only some are equipped with both a two-plate stove and a sink (communal cooking facilities are provided). You have a choice of kitchenette or communal kitchen; with or without riverside view.
Guest Cottages
The 6-bedded cottages at Letaba offer additional features like french doors leading to a spacious living room backed by a fully equipped, open-plan kitchen. Each of the bedrooms has air-conditioning and there are 2 bathrooms. All of the cottages can be easily accessed by people with mobility difficulties so getting around Kruger National Park will be easier.
Safari Tents
The 2 or 4-bedded furnished permanent canvas tents share the splendid camping area and offer good value. They are erected on cement floors and shaded by nets. Each is equipped with a cupboard, fan, table, chairs, fridge and electric light. Communal ablution facilities are available.
Melville and Fish Eagle Guest Houses
For guests that need Kruger Park accommodation with multiple bedrooms, the comfortable, self-contained Fish Eagle and Melville guest houses accommodating 8 and 9 persons respectively is the best option. The Guest Houses offer exquisite riverside views for sightseeing. The concept of exclusivity reaches new heights with the Fish Eagle Guest House, where guests have a bird hide for their own private use. Melville sleeps 8 and has an exclusive riverside view. Fish Eagle sleeps 9 and has a bird hide.
Huts
There are 5 huts each 3 beds. The huts share communal ablution facilities. There are no cutlery, crockery and cooking utensils. The communal kitchen is fitted with a sink, electric stoves, fridge, fan and air-conditioner.
Camping
There are 60 campsites or caravan sites available each with its own power point. There are communal cooking and ablution facilities. The communal cooking facilities include 24-hour boiling water, lectric hotplates and washing up facilities.
Please Note ALL Emergency Road Services are from Satara.