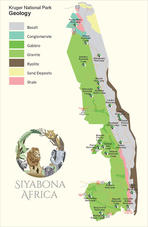 The underlying geology of Kruger Park is predominantly basal and granite, where the granite is interspersed with gabbro. Shale and sand deposits are fairly minimal and widely dispersed.

Rhyolite occurs in a thin band making up the Lebombo Mountains that form the eastern border between Kruger Park and Mozambique.
Above: Granite rock formation near Numbi Gate.