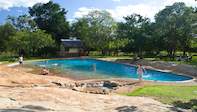 © SANParks
Pretoriuskop is situated in the Pretoriuskop sourveld in Kruger National Park - South Africa, surrounded by hills and valleys covered with dense grass.
Pretoriuskop Camp is situated in the southwestern part of the Kruger National Park in South Africa, only 9 kilometres (5.5 miles) from Numbi Gate, 60 kilometres (37 miles) from the Paul Kruger Gate and 50 kilometres (31 miles) from Skukuza Rest Camp.
The surrounding vegetation is varied with woodland, grassland and the granite dome of Shabeni Hill. The new Kruger Mpumalanga International Airport is situated just 25 kilometres (15.5 miles) from Nelspruit which is a half an hour's drive from Numbi Gate.
Travel routes and times from Johannesburg/Pretoria:
Numbi Gate: Take the N4 to Nelspruit then take the R40 to White River. Just out side White River take the R538 to the gate. Allow between 4 to 5 hours for the trip to the gate. Pretoriuskop Main Rest Camp is 9 kilometres away from the gate.
Allow about 20 minutes for the drive to the camp, however, if you want to enjoy the game viewing possibilities, give yourself more time in the Kruger National Park, South Africa.
Read more about game viewing routes in Pretoriuskop and surrounds.
Climate:
Kruger National Park, South Africa is in a summer rainfall area. Such precipitation is usually convectional and can result in heavy downpours. The summer months (October to April) are hot and often balmy. Winters are warm and mild, although visitors going on night-drives will require warm clothing.
Vegetation:
Pretoriuskop is in an area of thick vegetation, tall grass and unpalatable sour veld in the Kruger National Park, South Africa. Only below the drainage line is there quality sweeter grass for grazers. The most dominant tree is the silver cluster-leaf. In the camp itself there are some fine examples of Natal mahogany, marula and sycamore fig.
GPS Co-Ordinates
-25.169230 S
31.268720 E