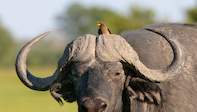 © Shem Compion
Morning bush walks offer an excellent opportunity to view game at close range on this Kruger National Park safari. Activities on your Kruger Park safari include Dawn Game Drive, Morning Walk, Mid-Morning Game Drive, Sunset Game Drive, Night Game Drive.
Several historic places and attractions such as the Voortrekker Road, the birthplace of Jock of the Bushveld (a well known South African literary dog), and the Albasini Ruins are within a short drive from Pretoriuskop Camp.
Experienced guides will take you on game walks and drives if requested for your Kruger National Park safari. Night game drives sometimes round off with a traditional bush braai (barbecue) and there are also many wilderness trails in the area such at the Napi Trail which explores the picturesque woodland bushveld.
Game viewing is also excellent, especially for Rhino enthusiasts on a Kruger National Park safari. Numerous Rhinos have been released near Pretoriuskop Camp, which contributes to the White Rhino population of about 11 500, in the area.
Please Note If you must walk around at night please do not do so without a torch.
Game
The chance of seeing small herds of Sable, Eland and Lichtenstein's Hartebeest make Pretoriuskop a special destination for a Kruger National Park safari. Black and White Rhino, Buffalo and Elephant can be seen on the loop roads around the camp. The numerous rocky outcrops should be searched for Rock Hyrax, Klipspringer, Oribi and Red Duiker (these two latter species though difficult to find are more or less restricted to this part of the Kruger National Park).
A visit to the Mestel Dam can produce Hippopotamus, while a stop at the Shitlhave Dam can produce Reedbuck. On the carnivore front, wild dog are frequently recorded in the area and, despite the dense grass, so are Cheetah. Spotted Hyena and Leopard should also be searched for during the course of your Kruger National Park suggested itinerary.
Birding
In the camp itself, look for Greencapped eremomela, Brownheaded parrot, Cutthroat finch, Redheaded weaver and several Sunbird species. Black cuckoo (summer) and gorgeous Bush shrike can be heard calling from the dense bush surrounding the camp. The Pretoriuskop region is one of the best areas in the Kruger National Park to see Pennantwinged nightjar, Blackbellied korhaan and Redcollared widow.
5 Things to Seek
Lichtenstein's Hartebeest
Black Rhino
Kudu
Brown-headed Parrot
Sable Antelope
These activities can only be booked in conjunction with confirmed accommodation bookings.