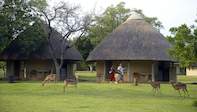 © Roger de la Harpe
Pretoriuskop Camp provides guests with a range of Kruger National Park accommodation to suite everyone's needs. Lodging options range from fully-equipped guesthouses to basic bungalows with just 2 beds and a basin. Accommodation at Pretoriuskop Camp is diverse and varied.
For a luxury stay book into the fully-equipped 16-bedded Pierre Joubert guest house or the 9-bedded Doherty Bryant guest house. These luxury rooms are fitted with well-equipped kitchens with microwave ovens. The bathrooms are fitted with either shower and baths or just baths. The bedrooms are situated in separate units from the main living area. The TV's feature limited DSTV channels.
Alternatively, guests can choose to stay in the family cottages. There are 4 cottages with 6 beds and 1 cottage with 4 beds available. The 6 bed cottage features 3 bedrooms, 1 fitted with a double bed while the other are fitted with 4 single beds. These cottages are fitted with 2 bathrooms, a kitchen with a gas stove and oven, combination fridge / freezer, sink, cooking utensils, crockery and cutlery.
The 4 bed cottage has 2 bedrooms, 1 room with a double bed and another room with single beds. This Kruger National Park accommodation is fitted with 2 bathrooms, kitchen with an electric hotplate, combination fridge / freezer, sink, cutlery, crockery and cooking utensils.
There are also 52 bungalows available sleeping 2, 4 or 6 guests. Each bungalow is equipped with bathrooms either with showers or baths and feature air-conditioning. Additional facilities include hotplates and sinks. Guests can choose between bungalows with a kitchenette or a communal kitchen. Guests can also make use of the limited number of fully equipped utensil boxes (crockery, glasses, cutlery and frying pan) available for hire.
A range of rustic huts are also available to guests staying at this accommodation in the Kruger National Park. There are 30 rustic huts which sleeps 2, 3, 5 or 6 guests. These huts are fitted with a ceiling fan and have communal ablution facilities. The communal kitchen is fitted with a scullery and electric hotplates. These huts have no cooking utensils, crockery or cutlery.
There are also 46 additional huts available which sleps 2, 3, 5 or 6 guests. The huts are equipped with a fridge and air-conditioning. These huts share communal ablution and kitchen facilities. The kitchen is fitted with a scullery and electric hotplates.
Pretoriuskop Camp also features 54 tent or caravan sites with or without power points. There are communal ablution and cooking facilities available. The cooking facilities include 24 hour boiling water, electric hotplates and washing up facilities. A maximum of 6 persons are allowed per site.
Pretoriuskop Camp also boasts the Royal hut, built in 1947, to accommodate the visiting King George V and his family (including the future Elizabeth II) during their visit to South Africa. Unfortunately, the hut was never used for the purpose for which it was built, as the royal family changed their plans last minute opting not to visit the Park. Today, however the hut remains as one of the many units on offer at the camp.
Summary of Kruger Park Accommodation and Lodging:
Campsites:
Tent or caravan sites, with or without power point, communal ablutions and cooking facilities, with a maximum of 6 persons per site are available for your Kruger Park accommodation and lodging.
Huts:
Three bed round rooms with communal ablutions and kitchen.
Bungalows:
Two, 4 or 6 bed round rooms. Equipped with ablutions (most with showers, but some with baths), air-conditioning, some have both hotplates and sinks, some only have sinks.
Family Cottages:
Four, 6-bed (with 1 double bed) or one 4-bed (with 1 double bed)
Guest House:
Doherty Bryant - 9-bed (1 double bed and 1 single bed in each room)
Pierre Joubert - 16-bed (2 single beds plus 2 bench beds in each room)
Disabled-friendly Accommodation
This Rest Camp in Kruger National Park, South Africa, boasts disabled-friendly accommodation with roll-in shower and adequate space in the bathroom for wheelchair manoeuvring.