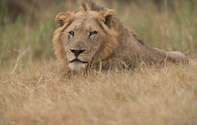 © Shem Compion
An investigation could be imminent into an advert that an American hunting outfitter has circulated on the Internet, offering clients the opportunity to shoot the Kruger National Park's lions as trophies. Earlier this year the outfitter advertised a lion to be hunted 'on bait' in its e-newsletter as distributed on the Internet.
Under a company slogan of ' Stop paying for Reputations... start Paying for Results' he advertises hunting experiences across the globe from lion and leopard in Zambia and South Africa, to bears in Russia as well as the Pamir Ibex or wolf in Asia and numerous prized trophies in North and South America.
The specific advertisement promoting the lion hunt in South Africa emphasised that the lions are in a low fenced area and regularly move in and out of the Kruger National Park. According to a nature conservation official this is all illegal. He says no lion may be hunted on bait. Nor may any lion be hunted in any of South Africa's protected areas and neither may outfitters advertise any South African lions for hunting, before the appropriate permits are in place.
Private Game Reserves like those adjoining Kruger, the Associated Private Nature Reserves manage and monitor hunting in the Reserves according to a strict business plan and hunting protocol in accordance with the National Environmental Management: Protected Areas Act no 50. No permits are or will be issued for lions on bait.
"This is totally unacceptable," said Jim Freely, founder member of the Game Ranger's Association of Africa (GRAA) when asked for comment about the advertisement. The Kruger Park Times replied to the advert pretending to be interested in the hunt and were reassured that "these are certainly free-ranging lions, (and that) they are NOT high fenced."
The outfitter further stated that he would appreciate some kind of identification as: "I have been catching some grief from a few people in South Africa, upset that we are advertising the lions coming out of Kruger being hunted." He goes on to say that he received an e-mail from "the President of PHASA (Professional Hunters Association of South Africa) telling me, in fact everything is totally legal about hunting the Lions once they come out of the park."
Stewart Dorrington, president of Phasa says he has been in contact with the outfitter about the issue but does not approve the hunting of Kruger Park lions and only supports legal hunting. "As you worded your correspondence to me, the hunt could be legal providing all the permits were in place.
However, it is very unlikely that four such permits could be issued on the same property and all for big maned lions on bait. It would appear that either they are canned lions or something is amiss. Needless to say I would not quote PHASA or myself as supporting such hunts until all the facts are on the table," said Dorrington in his response to the American outfitter.

The Kruger Park Times approached the South African hunter who could be implicated by the advert as the South African contact for the hunts. We asked him to comment. He said he was unaware that his name was being used in the advert and soon after confronted the outfitter about this.
The outfitter admitted that he had acted without the knowledge of the hunter and had done so to help out previous clients of the hunter who, in turn, had undertaken to sell hunts for the hunter in the United States of America. This was because they enjoyed their hunt and stay in South Africa so much.
"I know that I had never met you but could see no harm in trying to provide business this way. The adding of Kruger and fictitious trophies taken on the hunt came as a natural attachment to give flavour to the whole advertising thing and I apologise for doing that. I have never been there and did not realize what the impact would be.
I never meant to cause anyone any harm. I realize that I should have liased with you personally and hope that we can settle this matter in a civilized way.."