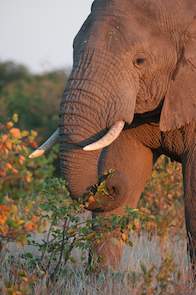 ©Shem Compion
While Spring 2009 has officially arrived, many deciduous trees in South Africa's northern Lowveld are still in their winter garb. Despite a rather dry winter, the grey landscape boasts streaks of splendid autumn browns, reds and greens where some mopane trees seem forever rooted in their autumn shine. A closer inspection of these leaves this time of the year reveals strings of whitish waxy 'bubbles'.
These come off easily when scratched, setting tiny bugs scurrying around on the leaves.Guin Zambatis, curator of the Skukuza Biological Reference Collection in the Kruger National Park, suggests these little critters are Arytania mopane from the family Psylidae.Not much is known about the small sap sucking insect.
Botswana-based researchers, W Mojeremane and AU Lumbile wrote in their paper on the characteristics and economic values of the mopane tree, Colophospermum mopane, that the sweet wax produced by the mopane psyllid is eaten by people in Botswana, especially children. The mopane tree is an important natural resource for many rural communities in Africa.
The leaves are eaten by domestic animals, even after falling to the ground as it retains its nutritional value. It is also popular with antelope and elephants.According to Mojeremane and Lumbile, the wood is used primarily for cooking, heating and lighting."The wood also makes a very good charcoal. Mopane fire produces copious amounts of slow burning, intensively embers which can last for several hours or days depending on the size of the wood."
The ash is used a fertilser and mopane poles are highly valued as building material for houses and animal enclosures. The wood, which is hard and rather difficult to work with, is used to produce furniture and for carving.In their book, Making the most of indigenous trees, Fanie and Julye-Ann Venter, note that an extract from the bark is used in tanning leather. The leaves, bark and roots are used medicinally and the gum, exuded from heated wood, is used to "treat wounds that are slow to heal."
Apart from the mopane psyllid, the tree is also host to the more well-known mopane worm, Gonimbrasia belina, the larvae of the moth, Imbrasia belina, and a very popular and nutritional food source in rural areas. These worms are eaten roasted or dried.A tiny bee, Plebina denotia, which produces edible honey also finds a home in mopane trees.
By Lynette Strauss
The most diagnostic feature of the Mopane tree is undoubtedly the butterfly-shaped leaves, which are bright green when they emerge but turn into a...
more