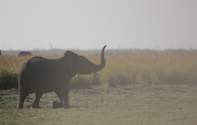 Kruger Park News Archive
More than 100 elephants have died due to effects of drought in the sprawling Tsavo National Park.The Kenya Wildlife Service (KWS) disclosed that the elephants died of hunger and poacher attacks. Tsavo Conservation Assistant Director Jonathan Kirui said the the elephants died between July and this month.
"We have so far lost 109 elephants in the past three months and the number is increasing every day due to drought and poaching activities," said Mr Kirui on the telephone.He continued: "Drought related elephants and hippos deaths have been on the increase in the park as water and pasture continue to decline."
He added: "The animals' body condition is also worsening especially for elephants, buffalos and hippos due to lack of pasture and water."Speaking to The Standard yesterday, Kirui warned that if it did not rain soon wildlife would be wiped out affecting tourism in the world-famous park.
Kirui said KWS has started giving hippos hay to save them from death. Elsewhere, the KWS personnel arrested four suspected poachers and impounded several ivory as a crackdown on poaching activities intensified in the park. Kirui said two of the suspects were arrested at Chakama in the Tsavo East with 63kg of ivory while the other suspects at Kishushe with eight kilogrammes of the trophies.
The Director said the prolonged drought has encouraged poaching and warned that anyone found would be dealt with according the law.Separately, the Drought Management Officer Parkolwa Mustafa said scores of livestock have died in Kishushe, Maktau, Ghazi and Paranga in Taita and Kidong, Salaita and Mahandakini in Taveta because of the drought. In his monthly brief on drought, the official said some herders had migrated to Msambweni and Kwale districts.- Kenya Standard