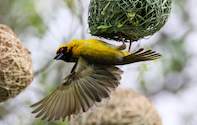 Between midnight on Friday 27 November and midnight on Saturday 28 November this year, birders throughout South Africa will pit their spotting skills against each other, and contribute to bird conservation at the same time.
The Sappi BirdLife South Africa Birding Big Day, a highlight on the birders' calendar for the last 24 years, will include 'Garden Birds' as a separate category.
It is hoped this new category will get a growing number of backyard birders interested the annual Birding Big Day."This is the 25th Birding Big Day and, as before, our serious birders throughout South Africa can help by doing the bird count and also contribute in a tangible way to the conservation of our country's magnificent birds", says Mark Anderson, executive director of BirdLife South Africa.
"This year we are also asking participants to consider their carbon footprint and to bird-watch within a smaller radius, when they enter the traditional category".Anderson says that participation in the Southern African Bird Atlas Project 2 (SABAP2) Category for serious birders is encouraged, as this information is particularly useful for conservation planning and climate change studies. The rules for this category follow the Southern African Bird Atlas Project 2 protocol (www.sabap2.org).
Participants need to be registered atlasers, with Animal Demography Unit observer numbers.With more than 15% of South Africa's birds listed in The Eskom Red Data Book of Birds of South Africa, Lesotho and Swaziland, many require urgent conservation interventions. BirdLife South Africa currently has several vitally important projects which aim to improve the conservation status of our country's threatened birds. These include albatrosses and petrels, the African Penguin, bustards and korhaans and the Southern Bald Ibis.
Learn more about bird species in our African Bird Guide