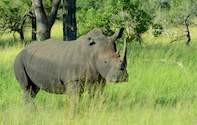 © Shem Compion
The Zimbabwe government has launched a massive exercise to dehorn rhinoceroses so that these animals do not have any value for poachers, a media report said.
Environment and Natural Resources Management Minister Francis Nhema said the de-horning exercise would remove the "incentives" for poaching. Rhinos are reportedly poached for its horns that are used in traditional Chinese medicines. Some people believe the horn contains aphrodisiac properties.
He said the black rhinos are most vulnerable to poaching. "We are dehorning some of the rhinos so that there would not be any incentives for poaching," the minister was quoted as having said by the Daily Mail. Nhema said the exercise is among the preventative measures in place after reports that more than 80 black rhinos fell prey to poachers in the past 12 months. The government has also relocated some of the rhinos to ensure protection.
The de-horning process must be repeated every few years as horns grow back, he said, while calling for harsher punishments against poachers.
"The fines that are in place now are not deterrent enough to stop people from poaching and there is a need to impose heavy fines," he said. The wildlife sanctuaries have entered into a strategic joint management partnership with the police and the army to combat poaching, the minister added. Zimbabwe has an estimated 800 black and white rhinoceroses.
MECs responsible for environment portfolios in provinces has called for integrated anti poaching efforts to halt the growing number of rhinoceros being...
more