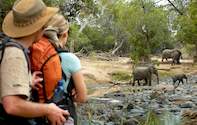 © Shem Compion
According to a seven-year study, from 2001 to 2007, about 80 percent of Kruger's visitors is from South Africa and 70 percent is Afrikaans speaking.
Analysing more than 2800 questionnaires collected over seven years at various camps in Kruger, Peet van der Merwe of the North West University, found most visitors chose the KNP to escape from their daily routine or to 'get away from the demands of daily life."
This is similar to the reason identified by Uysal of Australians visiting US national parks, and by Kim, Borges and Chon who investigated the reasons why people travel to festivals. According to the research many of Kruger's visitors spend between two and 14 days in the Park, twice a year.
And many of them visit because that's what they have been doing since childhood. They also see the park as an ideal place to spend time with family. The results of the survey also revealed nature, activities, attractions and novelty as reasons why people visit Kruger.
Find out when is the best time to visit Kruger National Park in South Africa. Game-viewing in Kruger Park is best in winter but some visitors prefer the...
more