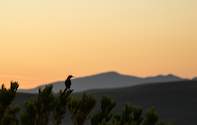 The 2010 target, adopted by more than 190 countries including South Africa, to "significantly reduce the rate of biodiversity loss", under the Convention on Biological Diversity (CBD) in 2002, was reassessed at the 10th meeting of the Conference of the Parties in Nagoya, Japan from 18-29 October 2010.
The Convention on Biological Diversity (CBD) is one of the most signed onto treaties in the world, and deals with the need to sustain the rich diversity of life on Earth.
In 2002 the CBD adopted the 2010 Biodiversity Target, an international commitment to significantly reduce biodiversity decline by 2010 as a contribution to poverty alleviation and to the benefit of all life on Earth. This was endorsed by the World Summit on Sustainable Development and the United Nations General Assembly and was incorporated as a new target under the Millennium Development Goals.
However, the target was never met. The CBD's third edition og Global Biodiversity Outlook (GBO-3), confirms this. The report, based on scientific assessments, national reports submitted by governments and an extensive analysis of future scenarios for biodiversity, warns of further large-scale biodiversity loss and loss of essential services as ecosystems become less productive. These losses may be difficult or even impossible to recover from and the impacts on livelihoods, human health, economies and our way of life will be severe if we do not quickly correct this situation.
Some Facts The GBO-3 Highlights
The wild vertebrate population fell by an average of 31 percent globally between 1970 and 2006.
Farmland bird populations in Europe have declined by on average 50 percent since 1980.
Of the 1 200 waterbird populations with known trends, 44 percent are in decline.
Freshwater wetlands, sea ice habitats, salt marshes, coral reefs, seagrass beds and shellfish reefs are all showing serious declines in extent and integrity.
Crop and livestock genetic diversity in agricultural systems is still declining.
By 1985 between 56 percent and 65 percent of inland water systems suitable for use in intensive agriculture in Europe and North America had been drained. Figures for Asia and South America were 27 percent and 6 percent respectively.
73 percent of marshes in northern Greece have been drained since 1930.
60 percent of the original wetland area of Spain has been lost.
About 80 percent of the world marine fish stocks for which assessment information is available are fully exploited or overexploited
The GBO-3 however argues that through effective and coordinated action to reduce the pressures on biodiversity, the situation can still be corrected.
South Africa
Closer to home, South Africa's fourth national report to the Convention on Biological Diversity, released in March 2009, states that while South Africa is one of the most biologically diverse countries in the world, it too has reason to be concerned.
Over 20 percent of the plants occurring in the Cape Floral Kingdom are threatened with extinction. This plant kingdom falls entirely within South Africa's borders and is home to 38 percent of South Africa's plant species.
National Red List species status assessments indicate that 10 percent of South Africa's birds and frogs, 20 percent of its mammals and 13 percent of its plants are threatened.
The National Spatial Biodiversity Assessment (NSBA), undertaken in 2004, showed that five percent of South Africa's 440 vegetation types are critically endangered, 12 percent are endangered and 16 percent are vulnerable.
82 percent of South Africa's main river ecosystems are threatened, with 44 percent critically endangered, 27 percent endangered, and 11 percent vulnerable.
36 percent of the country's freshwater fish are threatened.
Three of South Africa's 13 estuary groups are critically endangered, a further five are endangered and two are vulnerable.
65 percent of South Africa's marine bio-zones are threatened, with 12 percent critically endangered, 15 percent endangered and 38 percent vulnerable.
Stocks of 11 of the country's line fish species are considered collapsed.
Habitat loss and degradation, invasive alien species, flow modification, over-harvesting, pollution and climate change all threaten South Africa's biodiversity.
The result is degradation of water resources, loss of genetic diversity and biodiversity and the subsequent loss of ecosystem services. For South Africa's people, this translates into the loss of food and medicinal products, and serious economic impacts.
Many South Africans depend on natural resources for their livelihoods and survival. The World Health Organisation estimates that as much as 80 percent of Africa's people rely on traditional medicines as their main source of healthcare, while several hundred thousand people are directly employed in the traditional medicine industry.
Wood fuel is the main source of energy for about 75 percent of rural South African families. Subsistence farmers are dependent on healthy, functioning ecosystems to provide them with water and food and healthy soil in which to grow their crops.
Urban areas are similarly dependent on biodiversity and the Gauteng Province's entire water supply is delivered by inter-basin transfers from catchments beyond its borders. This province also consumes nearly 30 times more wheat than it produces.
Read more interesting articles about Biodiversity