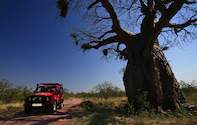 © Jacques Marais
Mozambique's Limpopo National Park (LNP) is running a project where 4x4 enthusiasts will conduct a census in the park, which forms part of the Great Limpopo Transfrontier Park (GLTP). Named the Census on Safari, the inaugural event takes place in LNP over two days and is planned as a high tech data collection exercise.
"What is needed to join this event is a sense of adventure, a fair knowledge of nature and to be well kitted with cameras, laptop, GPS, and if possible a satellite phone, as well as a 4x4 vehicle that allows for total self sufficiency. Participants will also be able to put their computer skills to the test by producing a twenty minute power point presentation of the data that they have collected.
Data collection will encompass plants, reptiles and amphibians, birds, mammals (animals, tracks, dung and skeletons), insects and spiders, fish (fresh water fish in river and pan systems). Fly fishing rods with flies and spinners may be used for fishing on a catch and release basis. Participants will be required to capture all data on camera as well as recording GPS waypoints for each photograph, sample or object.
GIS technology may be used to the extent that it can be downloaded for use in the power point presentation. Census on Safari will inlcude a competition with 4x4 MegaWorld providing prizes in various categories, which will be awarded at a gala evening in November. The event is limited to forty vehicles with two people per vehicle.
Registration will take place in LNP at the first night's campsite on September 19, 2008. Participants will be divided into eight teams of five vehicles and on the following morning teams will depart for their allocated zone within LNP. Park rangers will accompany the teams for the duration of the census and officials will roam between the teams to assist participants and evaluate progress.