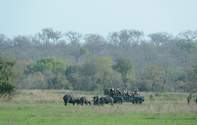 © Shem Compion
Almost 40 years ago, Louis Olivier, one of the Kruger National Park's much-loved and esteemed game rangers and an enthusiastic Blue Bulls supporter, almost reluctantly applied for a position in the Park. He wanted to return to the University of Pretoria to complete his studies, but, "my parents persuaded me to rather apply for a position in the Park, and here I have been for most of my adult life, probably to a large degree because parents know their children best."
At the time he worked for the former Eastern Transvaal department of roads and lived in White River.He reported for work on February 3, 1969, neatly dressed in khaki uniform, with kudu-head epaulette on both shoulders pointing the wrong way. However, Mr. Brynard, the Park warden at the time, quickly rectified the little slip-up. Louis was born in Polokwane and attended several schools from Dendron, to Bedford (Mariepskop) to writing matric at Ben Vorster in Tzaneen.
His first assignment when he joined the Park was to recover the carcasses from the Park's animal control programme. Big game, such as elephant and buffalo, zebra, blue wildebeest and hippo was culled during the day, while smaller game, like impala, was mostly shot at night. He became the Park's game capturer and "this time I used life and not death, and it was one of the most positive adjustments in my life," he said. He was transferred to Tshokwane, where, as a bachelor, he enjoyed settling into his role as cadet ranger/game capturer.
Later, while stationed at Shangoni as section ranger, Louis married Trix, a communications graduate from Bloemfontein, on New Year's Day in 1977, six weeks after an extraordinary and unforgettable day when Louis and Hans Kolver wrestled and fought a colossal crocodile to save the life of friend and colleague Tom Yssel. Both received the Wolraad Woltemade award for bravery for their amazing feat on that day. At that time, it was only the second time in the history of the country that the medal had been awarded.
Shortly after his marriage, the Park transferred Louis to Shingwedzi and then to Punda Maria where Benneli, the Olivier's daughter, was born. Four years later, the Oliviers were transferred to Crocodile Bridge where their son Derik was born. Another four years later they moved to Skukuza where they stayed for two years before Louis was promoted to regional ranger and returned to Shingwedzi.
During the 2000 Operation Prevail Programme, the transformation process within the Park, Louis was moved to Letaba Camp where he stayed for two years. At the beginning of 2004 Louis and his family moved to Phalaborwa where he is currently regional ranger of the southern part of Nxanatseni Region and mentor to many. 2004 was an exceptional year for Louis. Almost 40 years after he gave up his BSc studies he completed a master's degree in Nature Conservation at the Tshwane University of Technology."
What made it more special is that his graduation coincided with that of his daughter who received her B Tech degree. Louis has embraced transformation in the Park. His nickname, 'Oom Louis', as he is now fondly known by most staff, has all but replaced his Tsonga name, Mandleve, meaning 'Big ears'- a name he shares with one of Kruger's best known big tuskers.
Louis is an inspiration and motivation to many rangers, guides and other staff in the Park. Many tourists can attest to the big, friendly man who has explained the ordinary and shown them the extraordinary to turn their visit into an exceptional experience. Apart from his close encounter with the crocodile, Louis has had a number of near misses and quite a few hits. He has been bitten by a puff adder, nibbled on by a zebra high on the inner upper thigh and clung on to a buffalo on the run. He survived being pinned down by a huge burning tree and suffered serious injuries to his back, leg and foot and spent a long time in hospital.
Louis has spent a lifetime in Kruger. He knows its history and has even contributed to chunks of it. He has welcomed people and bid friends farewell in this remarkable part of the world. His, as many others, is an exceptional story of 39 years in service to his Lord, his family and his dearly loved Park.