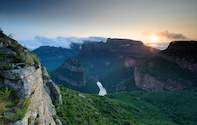 The Blyde River Canyon, South Africa's fourth most-visited tourist attraction, is now officially known as the Motlatse Canyon, despite the protests of the tourist industry, reports Sizwe samaYende for Bua News.
The canyon is one of numerous places in Mpumalanga that has undergone a name change since 2002, with 76 name changes having been approved and gazetted by the province. Mountains, rivers and towns have all undergone alterations, and Mpumalanga premier Thabang Makwetla has said that proposals to change 15 more names were still awaiting approval by the minister of arts and culture.
These include Witbank, which may be renamed Emalahleni (Zulu for 'place of coal'), Standerton, which may be transformed into Sakhile (Zulu for 'we're here to stay') and Kriel, which may become Kwanala (Zulu for 'abundance').
About 65 of the name changes involve the alteration of mis-spelt or corrupted names, said Makwetla, and about 80 more are expected to be corrected in 2006/2007 financial year. Meanwhile, in Limpopo, a battle still rages over Louis Trichardt being renamed as Makhado.