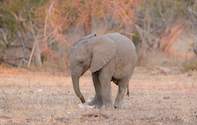 © Shem Compion
Kruger Park News Archive
Two animal welfare organisations will be "seeking an urgent legal application" to have six young elephants returned to their family groups after they were captured and relocated from the Selati Private Nature Reserve to an elephant-back safari operation, Elephants for Africa Forever (Efaf). Xwe African Wild Life and Justice for Animals say, "renowned elephant experts view it as unethical and cruel to forcibly remove young elephants such as these from their families."
According to Ian Bester, general manager of Selati, the reserve has more than 80 elephants on its 28,500ha and has been advised by the Range and Forage Institute that the vegetation is suffering due to an excess of herbivores. Bester says that they have been unable to find other reserves to translocate elephants to. The committee has decided to institute an immuno-contraception programme on their elephants, but would first like to reduce overall numbers.
Having sold young elephants to Efaf last year, a second relocation exercise was arranged for April 17, 2006. Bester says that three female and three male elephants, aged between eight and ten, were relocated. The animal rightists, who claim the six elephants comprised four females and two males aged between seven and nine, say, "Most humans would consider it cruel to remove a seven-year old child from its mother and human family.
Therefore, since it has been proven that elephants parallel humans in terms of emotions, and in many other respects, it is indeed cruel to remove a seven year old calf from its elephant family." The capture operation took place under the watchful eye of Karen Trendler, from the National Council of SPCA's wildlife unit, in fulfilment of a stipulation on the permits issued by the Limpopo department of environmental affairs.

Xwe Animal Wildlife say that they will be lodging a formal complaint with the veterinary council about vet Paul Meyer's participation in the operation. They also condemn the NSPCA, saying, "Shame on you NSPCA - you of all organisations should have understood better what the implications are....
How is it possible to give a clean bill of health for this cruel capture and subsequent incarceration." According to Howard Blight, chief executive of Efaf, the elephants have settled in well with the other 10 elephants already at the Mooketsi elephant stables, to the extent that within days they would accept oranges from the hands of their trainers.