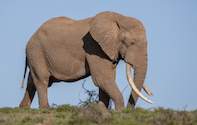 © Peter Delaney
The rare pleasure of spotting an elephant with enormous ivory tusks sweeping the ground is a reward in itself, but now the Kruger National Park (KNP) is planning on giving out prizes to anyone who takes photos or videos of any of the 'big tuskers' in the park. Pictures capturing the location of ear notches and the exact size and shape of the tusks are a priority, as the park is hoping to find out exactly how many emerging big tuskers there are and where they are located.
There are currently 42 elephants with impressive ivory that the park staff are keeping an eye on, and tourists can help to identify any others. The three prizes in the competition will be given out annually, and first prize is the chance to go with a KNP elephant researcher to dart and collar an elephant.
Second prize is a weekend for four at Letaba, and third prize is a night's accommodation for five in either Sable Dam or Shipandani sleepover hides. One of the well known tuskers is Duke, currently the largest of the tuskers in Kruger. Duke is often seen in the Lower Sabie/Crocodile Bridge/Tshokwane area. He is named after early ranger Tom Duke who was based at Lower Sabie.
Another emerging tusker is the almost 'mythical' Mac. This elephant is seldom seen. He was photographed once from a helicopter and has not been seen since. He may have died without his carcass or tusks having been located. He is named after ranger Hector MacDonald who was based at Crocodile Bridge from 1928 to 1951. Massanguine, named after Phineas Massanguine Maluleke who was a field ranger for many years in the Park, was first  photographed in 2004.
He appears to be very young and therefore has the potential to become one of Kruger's great tuskers. Sikele with his characteristic skewed tusks was photographed for the first time just west of the Klopperfontein windmill in 2004. He is named after James Chauke who served many years of service in Kruger. The name appropriately means "the sickle" as his tuskers are reminiscent of this tool that is used for cutting grass. The Kruger Park Times hopes to bring you more detailed information about each tusker in future issues.