Bush recipes of note... so this is Christmas
Every year

So this is Christmas

And what have you done

Another year over

And a new one just begun

And so this is Christmas

I hope you have fun

The near and the dear ones

The old and the young
A very merry Christmas

And a happy New Year

Let's hope it's a good one

Without any fear
(By: John Lennon and Yoko Ono)
How many times have we said: ''So this is Christmas, and what have we done and what food are we going to serve?'' I am going to give you a solution for at least one meal over the Christmas weekend.
With my family, we usually have a slightly formal dinner on Christmas Eve and on Christmas day we lounge around the pool with all and sundry bringing their favourite summer dishes. It is a very relaxed day with no-one slaving in a hot kitchen.
Christmas Eve Menu
Grilled Goat's Cheese salad
Braaied fillet in caul fat with red peppers, spinach and feta cheese
Sauté potatoes
Steamed vegetables
Cold Christmas pudding
Grilled Goats Cheese Salad
(Serves 6)
3 Fairview Chevin cheeses
1 Butter lettuce
1 Bunch Watercress
6 Spring onions
1 Packet red oak lettuce
50g Chopped walnuts
1 Granny Smith apple
1 Starking apple
Roughly 160ml fresh cream
Dressing:
Grated rind and juice of one lemon
3 Tablespoons of walnut oil
5ml Dijon mustard
Salt and black pepper
Mix the salad dressing and allow infusing. Core the apples and slice in thin slices. Sprinkle some lemon juice over to prevent discolouration. Wash and dry the lettuce leaves and the watercress. Chop the spring onions. Arrange salad on individual plates. Cut the end rinds off the Chevin cheeses, and then cut them in half (horizontally).
Place the cheese slices on a baking sheet which is lined with aluminium foil. Spray with non stick spray. Place a spoon of cream on the cheese and sprinkle lightly with freshly ground pepper and a dash of salt. Grill until the cheese just begins to bubble. Place cheese on salad, sprinkle with the chopped walnuts and the salad dressing.
Main Course
Grilled fillet of beef in caul fat with red peppers, spinach and feta cheese. A lovely main course which could be assembled the day before so that the flavours could mingle and develop. It gives the hostess time to tend to her guests. Caul fat bastes the meat during cooking. It keeps it juicy and gives the meat a unique smoky flavour.
A piece of caul fat Roughly 2 kg of beef fillet
Soft butter
Salt and freshly ground black pepper
Eight sweet red peppers, halved and seeded
One large bunch of spinach deveined and shredded
150g Good quality feta cheese
100ml sun dried tomato pesto
100ml Olive oil
5 Large cloves of garlic, finely chopped
15ml Fresh thyme leaves, chopped
10ml Fresh oregano, chopped
25ml Balsamic or red wine vinegar
Mixed fresh herbs to garnish
Soak the caul fat in luke warm water with a dash of vinegar in the water. Remove all the sinews from the meat. The thin white membranes on the fillet becomes very tough when put through a cooking process. It is quite easy to remove - slip the blade of a very thin knife under the membrane and follow it to the end. Fold back the thin end of the fillet. Spread the soft butter over the meat and season with the salt and pepper.
Cut the sweet peppers into strips. Heat the olive oil in a pan and sauté the sweet peppers until soft - roughly 10 minutes. Add the garlic, thyme and oregano and stir-fry for one minute. Add the vinegar and set aside. Use the left over juices in the pan and sauté the spinach until limp.
Take care to have the red peppers and spinach as dry as possible otherwise one could end up with a puddle of juices on the serving plate. When the spinach is cooled, mix the red peppers, spinach, feta cheese and pesto. Correct seasoning. Lay the soaked caul fat on a chopping board and cover with the vegetable and cheese mixture. Place the fillet on top of the mixture and fold the caul fat and filling around the fillet.
Secure with string. Braai over moderate coals for about 40 minutes or until medium rare. Let the meat rest in the warming drawer for about 15 minutes. This settles the meat juices and you will not end up with a bloody puddle in your serving plate. Serve this delectable dish with sauté potatoes and steamed vegetables of your choice.
Dessert
Cold Christmas Pudding
This easy pudding could be assembled at least two days ahead.
125ml Currants
125ml Seedless raisins
125ml Sultanas
60ml Mixed candied peel
60ml Chopped glacé cherries
60ml Chopped nuts
30ml Brandy
1pkt (80g) Lemon jelly powde
5ml Mixed spice
240ml Ginger nut biscuit crumbs
Topping
150ml Cream
15ml Sugar
30ml Brandy
Place the currants, raisins and sultanas in a bowl and cover with 500ml boiling water. Leave until plump and soft. Drain and reserve the water. Add the remaining fruit, nuts and brandy to the fruit. Mix well and allow standing, covered for 1 hour. Make up reserved water from fruit to 500ml with fresh water, bring to boil and dissolve jelly.
Mix spice and crumbs together, and then combine all the ingredients. Pour into a rinsed ring mould and chill until set, about two hours. For the topping: Whip cream with sugar and add brandy to taste. Pile into the centre of pudding. Surround with holly springs or edible green leaves such as lemon leaves.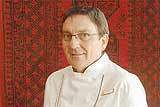 Ferdi Heyns is the sector executive chef for Kagiso Khulani Supervision Foods, a subsidiary of Compass South Africa. Compass South Africa is currently the interim restaurant operator in the Kruger National Park. Ferdi has been in the industry for thirty years and has catered for the rich and famous during his very interesting and colourful career.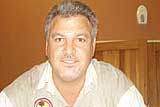 Garry Hamer is currently the catering manager at Lower Sabie rest camp. He is part of the Compass team which is the appointed interim restaurant operator in the Kruger Park. He is also qualified as aexecutive chef and for years he was the owner of Gold Reef city caterers and conference centre. Garry has been in the industry for 27years.