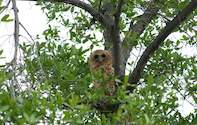 © S. Braine

A recent survey in the far north of the Kruger National Park for one of the birds most highly prized by birders, the elusive Pel's fishing owl, has had disappointing results. Only four birds were found during the three-day survey, which saw seven people hunting for the birds from just after dawn to just before dusk.
The survey took place in the Pafuri section of the park, following the Luvuvhu River from Crook's Corner to the Mutale Bend. This is the first survey of the river since the 2000 floods, and Pafuri section ranger Sandra Basson says that the vegetation has changed considerably since then. The first surveys of the Pel's fishing owl population in this area were carried out in the early 1990s.
Sandra reports that at that stage, 13 pairs of birds were typically found, along with signs of others. With the new survey, only four birds were sighted, but signs of a further six birds were seen. Sandra says that they are hoping to conduct another survey in May next year, when the birds are likely to be nesting.
This would increase the chances of spotting more birds. The survey was conducted by Sandra Basson, Scott Ronaldson (former Pafuri section ranger) Albert Froneman (Endangered Wildlife Trust), Andrew Desmet (Kruger's activities manager), a Wilderness Safaris guide and two members of the public.
Learn more about the Pel's Fishing Owl and the best places to spot them in Kruger Park.