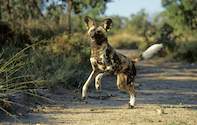 Twelve lucky winners were awarded a variety of fantastic prizes at the Endangered Wildlife Trust's headquarters in Johannesburg on June 30, 2005. They received prizes ranging from luxury accommodation to photographic hampers for snapping the most useful pictures of wild dogs and cheetahs in the Kruger National Park and adjoining private nature reserves.

The photographic census, which ran for seven months, was the fifth wild dog census but only the second cheetah census to ever take place in the park. Altogether, over 4,000 photos were received from 414 entries.

The majority (251) were of wild dogs, with the remaining entries being of cheetah. The first prizes were awarded to Lawrence Adler (southern district), Hilton Kotze (central district) and Tarryn Morris and Kyle Harris (northern district).

The nine second prizes went to Margaret Vick, Katherine von Gerhard, Johan Mey, Fritz Balcke, Jeanette Bower Winters, David Durant, Jennifer and Victor Gouveia, Shaun Levick and Anton Pretorius.
Census Results
According to Dr Gus Mills, Research Fellow with South African National Parks, preliminary results show a minimum of 140 wild dogs in 17 packs. This is a decline from 2000 when 177 dogs in 25 packs were counted. The 2005 census shows an increase in pack size from 7.1in 2000 to 8.2 individuals.
The threshold for potential concern, when park management will decide if action should be taken, has been set at 12 packs, or an average pack size of less than six individuals. In 1995, a high figure of 434 dogs in 36 packs were counted.Mills says, "The continuing years of above average rainfall is believed to be the major reason for the low numbers and it is believed that several dry years are needed to reverse the population trend." The results suggest that the cheetah population has not changed significantly since the 1990/91 census although only 103 cheetah were counted this year. The previous count revealed 172 animals, but this is believed to be partly due to the previous survey being twice as long.Before any conclusions are made, a further analysis of the data using a statistical mark-recapture approach needs to be carried out. Statistical analysis has shown that wild dogs were best sampled in the southern parts of the park, whereas the central and northern districts did not have as good coverage. Cheetah coverage was generally considered to be poor throughout the park.
A new report will guide the way forward for Cheetah and African Wild Dog conservation in South Africa...
more