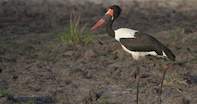 © Richard Miller
The Big Five mammal species are generally a must-see for tourists to Kruger National Park, but fewer people are aware of the big six. These are six bird species that have been selected for a number of reasons, including the desirability of a sighting, their restricted range and their rarity.
The birds are all readily recognised and include the lappet faced vulture, martial eagle, saddle billed stork, kori bustard, ground hornbill and Pel's fishing owl. Of these, the most elusive is Pel's fishing owl, being a nocturnal bird that occurs mostly along large watercourses.
The best place to spot the unusual owl is along the Levuvhu, Limpopo or Olifants Rivers. However, they have been seen along the Letaba, Shingwedzi and Sabie Rivers, and dams in the region. Walking trails and night drives offer the best opportunities for a sighting.
According to Chris Patton, one of national parks' birding experts, there are only 25 to 30 pairs of the beautiful saddle bill stork in Kruger, even though they are regularly seen. "These numbers make them far rarer and more threatened than animals such as cheetah and wild dog, not to mention the big five."
See our Kruger Park bird guide
Learn more about African birds. An information guide on birds in Kruger National Park. This Birds of Africa guide offers bird watching enthusiasts a diversity of information on birdlife...
more