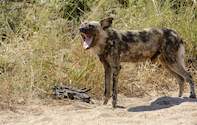 © Roger de la Harpe
Seven wild dogs that were released into greater Kruger at the beginning of May have now chosen a den site about three kilometres from where they were initially kept in a boma on York Private Nature Reserve. Three of the dogs have been fitted with collars for tracking purposes, two that rely on radio-telemetry and one cellphone collar. The five male dogs originated in Marakele National Park, while the two females came from Madikwe Private Nature Reserve.
The reintroduction of the wild dogs into Balule Nature Reserve is part of the Wild Dog Advisory Group meta-population project. The dogs left their boma and travelled eastwards, spending some time in the Klaserie Private Nature Reserve before moving in a loop back to the area where the boma was set up to allow the dogs to bond. Ellery Worth, in charge of the reintroduction, says one of the females was impregnated in the boma. She is now staying close to the dogs' new termite mound home, while the other dogs hunt up to 10km away. Pups are expected later in the month or early June.
Anyone wishing to keep up with the dogs' progress can contact Ellery Worth on 083 453 1613 or 072 393 6327.