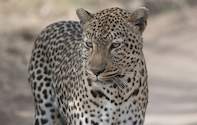 © Shem Compion
If you are a wildlife and nature lover who enjoys reading about first hand experiences, two books published by CC Africa may be worth adding to your library. WildWatch, a full-colour annual publication is 'essentially a record of interesting and unusual wildlife observations made by guides in all the areas where CC Africa is active'.
This entails over 30 lodges in six countries and include Phinda, Ngala, Londolozi (all in South Africa), Ngorongoro Crater Lodge (Tanzania), Kichwa Tembo (Kenya) and Sossusvlei Mountain Lodge (Nambia). The book contains educational and entertaining observations, beautifully enhanced with excellent photographs and illustration.
According to editor, Duncan Butchart, the book is also "a major source of motivation and inspiration to the over 200 guides employed by the company who now have the opportunity to see their articles, observations and photographs in print." The second publication, the 6th annual Ecological Journal, is a scientific journal with contributions from CC Africa field staff and professional ecologists.
"We produce this publication in the belief that responsible safari operators should document important ecological information which can benefit the industry as a whole," says Butchart. Both books are available at the lodges.