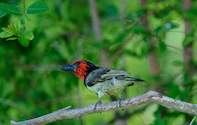 A driving force behind the creation of the World Wildlife Fund (WWF), the Convention on the International Trade in Endangered Species (CITES), and many other international conservation initiatives has died. Prince Bernhard of the Netherlands died on December 1, 2004, at the age of 93.

The Prince, known as the 'Flying Prince of Conservation', was the honorary president of BirdLife International's Rare Bird Club, and a dedicated fundraiser for conservation efforts.
Prince Bernhard was the first international president of the WWF. He also spearheaded initiatives to create nature reserves in several countries and helped set up Operation Tiger in Asia.
Jane Fenton, Vice President of BirdLife International's Rare Bird Club, said, "The Prince's energy, enthusiasm and support for wildlife conservation was unsurpassed. He was fearless and would undertake tasks that others might have shunned, including face-to-face fundraising which raised thousands of pounds around the world for BirdLife's Rare Bird Club and numerous other global conservation issues."
The Prince was born in Jena, Germany, and married Crown Princess Juliana of the Netherlands. Juliana was queen of The Netherlands from 1948 to 1980. Prince Bernhard served as a liaison between the Dutch government and the British armed forces during World War II.
In 1976 he was implicated in a scandal concerning the Lockheed Aircraft Corporation after he was found to have accepted huge sums of money from the company to promote their aircraft in The Netherlands.
Read more about rare bird articles.