Indians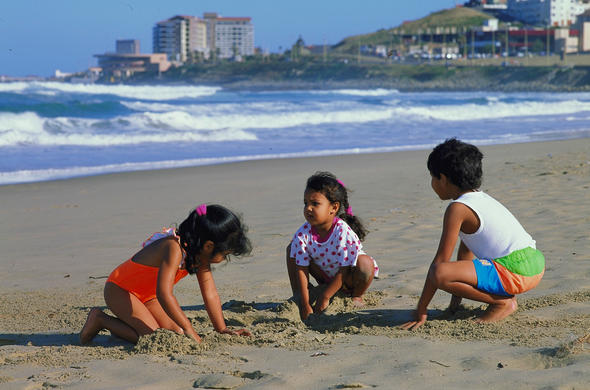 The Indians were relatively late arrivals in South Africa but their influence and contribution have played a great role in the history of this African country.
Introduction
Of the nearly one million Indians living in South Africa, 80 per cent reside in KwaZulu-Natal. But Indians are not a culturally homogeneous group and have no distinct language and religious differences between them although English is widely spoken by most Indians. The Indians in KwaZulu-Natal are predominantly Hindu while those living in and around Cape Town are mainly Muslim. About 5 per cent of Indians are Christians.
Historical Background
The first Indians arrived in South Africa in 1860 to work as indentured labourers on the sugar plantations in Natal. A shortage of labour and an inability to secure the local Zulu population as a work pool necessitated the bringing in of Indians. The British Government, which also paid their passage, invited the labourers, mostly from Upper India and Madras, to South Africa and contracted them to work for periods of 3-5 years. When their contracts expired they could either be renewed or they could return to India at the expense of the Government. However many chose the option of staying on and receiving in return a plot of land equal in value to the cost of their passage back to India. Those that stayed on were usually absorbed into the various sectors of the economy as labourers or started up farming their own land. A second group of Indians, arriving in South Africa around the same time as the first were British subjects who having paid their own costs to travel over there, settled in Natal where they started up their own businesses.
Gandhi
Mohandas 'Mahatma' Gandhi first came to South Africa in May 1893 as a 23-year old barrister, to assist an Indian merchant in a civil law suit. At the time he had no interest in or experience of politics except for a strong sense of duty, an attachment to truth and an urge to serve humanity. What he experienced in South Africa changed his life forever. He became concerned about educating and uniting the Indian community that was then dispersed and divided by class, religion and language. Gandhi helped establish the Natal Indian Congress in 1894 and the Transvaal British Indian Association in 1903 to defend the rights of Indians. At the time, Gandhi had great faith in the British sense of justice and diligently sought to persuade whites that Indians too were civilised people entitled to better rights. Gandhi led an Indian ambulance corps during the Anglo-Boer War of 1899-1902 and later a stretcher-bearer corps during the Zulu rebellion of 1906. However, he soon came to the realisation that his efforts and petitions were falling on deaf ears and that he would soon need either a physical or a superior, spiritual soul force behind him to endure the struggle for better rights.
Satyagraha
With Satyagraha, an active yet non-violent defiance of injustice with fearlessness, sacrifice and suffering, Gandhi turned ordinary Indian men and women into heroes and martyrs. The Indian resistance campaign lasted for eight difficult years until the then South African Prime Minister, General Smuts, yielded, signing an agreement accepting all the main demands of the Satyagraha. On July 18, 1914, exactly four years before Nelson Mandela was born, Gandhi left for India, taking with him not only his philosophy of Satyagraha but also many firm ideas derived from his South African experience. In his wake he left a lasting legacy, not only for South African Indians but also for oppressed people around the globe. Gandhi's example and the Satyagraha he led in South Africa, inspired similar struggles for freedom from oppression in many people and countries around the world. As Nelson Mandela remarked recently, the spirit of Gandhi, the Satyagraha conceived and tested in South Africa at the beginning of this century, may well be the key to ongoing human survival in this the twenty-first century.
Social Customs
Many Indians living in South Africa still maintain their ancient traditions and customs with the unique Indian cuisine being a firm favourite among South Africans. Indians both Muslim and Hindu stay in South Africa, but the first group of Indians to set foot on African soil consisted mainly of Hindus. They brought with them their ancient caste system and laws, a laid out social hierarchy which governed everything from your type of work to the marriage partner you would be expected to take. However the caste system was soon abandoned by Indians in their new found home leaving economic status and intellectual achievement to develop as the new yardstick for admission to social acclaim. Hinduism is not solely a religion but also a life philosophy which accepts the existence of many different gods and deities. The head god, Brahma, Vishnu and the god of destruction Shiva are some of these. Hindus also believe in the concept of reincarnation or many rebirths and most have private household altars where offerings can be made and prayers be said. Weddings continue to appear as prominent highlights on most Indians' social calendars. In the past, the bride was expected to live with her husband in his parental home. However, now days in the modern Indian community the emphasis has shifted from the extended family to that of the nuclear family. But also changing with the times has been the role of women, with more and more Indian women becoming educated and economically active.