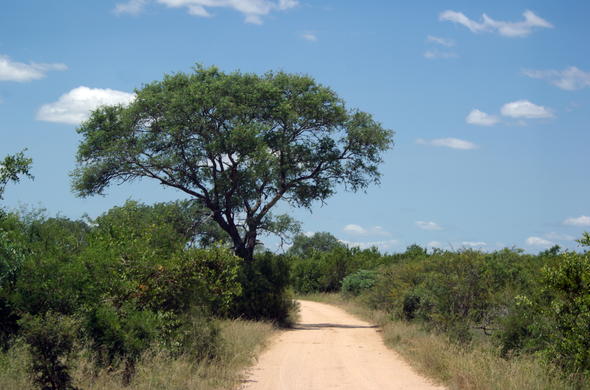 Overview: This is an exciting five-day trail for 4x4 enthusiasts. It follows the Lebombo mountain range from Komatipoort to Pafuri, snaking in and out of more than 30 different habitats.
The convoy accommodates a maximum of five vehicles, and all trips are led and supervised by experienced, armed park rangers. There are no facilities available on the trail and all vehicles and participants must be self-sufficient.
Distance and Routing
The Lebombo Eco Trail traverses about 525 kilometres (310 miles) across the length of Kruger Park and takes 5 days (4 nights) to complete.
This trail runs through the eastern section of the park through the foothills of the Lebombo Hills. It is usually travelled from South to North, passing through several eco zones, but is generally dry, and you will have a good chance of seeing White Rhino.
Stops along the route are made at three camps: Lower Sabie, Olifants and Shingwedzi for re-fuelling, replenishment of supplies and water. And having a shower.
The Lebombo Eco-Trail is a guided self-drive route spanning the length of Kruger Park, and is considered to be one of the best eco-trail 4x4 routes in South Africa.
Give your 4 x 4 a trail to remember
The trail is led by experienced South African National Parks Guide who will help participants appreciate the various eco regions and flora the trail passes through. This is considered to be the best eco-trail in South Africa due to the diversity of its flora and fauna.
Participants are required to travel in their own 4 x 4 vehicle. Road conditions along the route vary from good to rough with mud and steep inclines, so the trail is limited to 4x4 vehicles.
The route is not designed to challenge your vehicle; rather it is designed for those people looking look enjoy a self-drive wilderness experience.
Seasonal Information
The trail runs in the dry season from the 1st of April to the last Sunday in October which is about when the rainy season commences.
Please note that the trail may be closed after heavy rains.
The Lebombo Eco-Trail Route
The tour departs from Crocodile Bridge at 09:00 every Sunday and concludes at Pafuri around 12:00 pm on a Thursday. The trail runs through the eastern side of the park and there will be wonderful views over the Crocodile and Komati Rivers. Then the trail ascends a steep hill heading towards Lower Sabie before passing through some open savannah and bushveld, passing many magnificent trees.
The first nights campsite is situated just to the East of the Lower Sabie. It is unfenced. The only facilities available are two environmental-loos. Each campsite has been left as un-disturbed as possible. It is an early start in the mornings, and the trail leaves no later than 07:00. There will be a number of stops along the way where the guide will talk about animals encountered, the biology and history of the region.
The next night will be spent at Pumbe between Satara and Olifants. The third night will be spent at Shilewa, which is northeast of the Mopani campsite. The final night of camping takes place at Ndzepfuri.
What to bring on the Lebombo Eco-Trail
Participants on the Lebombo Eco-Trail need to be fully self-sufficient and will be catering for themselves.
The National Park stipulates that all vehicles be fitted with a GPS device.
Creature Comforts:
each vehicle must carry a tent and sleeping bags
camping beds
camping tables and chairs
sufficient firewood or gas for cooking
cool box or mini-refrigerator
at least five litres of drinking water per person per day
enough food for three decent meals a day
other beverages
crockery and cutlery
torches or gas lamps
wash basin and stand
your cellphone
Equipment:
a well equipped tool box
basic first aid kit
fire extinguisher
camera and binoculars
chargers for camera and cell-phone
gas cooker and cooking equipment
plastic garbage bags (which will be disposed of at one of the camps)
Personal Items:
hat
towels
bio-degradable soap
insect repellent
sun-screen
any personal medication
toilet paper
Packing Tips
If you are new to this, the order of packing your vehicle is of primary importance. Because once you are out in the bush, disorganization will be the last thing you want to deal with after a long days drive.
Pack the stuff you need to take out first - last.
For example - items like your tent, ground sheets, camping beds and sleeping bags should come out first so that you can set up camp.
Next out will be your canteen: gas cooker, refrigerator, wash stand, tables and chairs, cooler box/es, fire extinguisher, lamps and torches, cutlery and crockery.
Finally, the supplies. Food and drink.
There are two sorts of food and drink. That which you are eating when you set up camp, and that which you need access to while you are on the move. Don't try to store them together. The evening supplies can be stored in the back of the vehicle, while the travelling sandwiches, snacks, soft-drinks and water can travel up front with you.
One handy way of managing the camping food is to decide your evening menu in advance, before you pack. Then, pack each nights meals separately.
Of course you will need to keep all the meat an dairy products in your camp refrigerator - but it helps to just be able to pull out one container with all of that nights ingredients ready to go.
This way you only un-pack what you eat, and there is nothing left to pack away.
Restrictions
Only 5 vehicles and the guide's vehicle are permitted on the trail at any one time to limit the environmental impact and ensure a wilderness experience.
The tour permits a maximum of 4 people per vehicle
No persons over the age of 65 or below the age of 12 may participate
All participants are required to complete and hand in the indemnity form before starting the trail
Malaria Warning
Malaria prophylactics are strongly recommended.

Please read the Malaria Advisory for guidance and precautions.