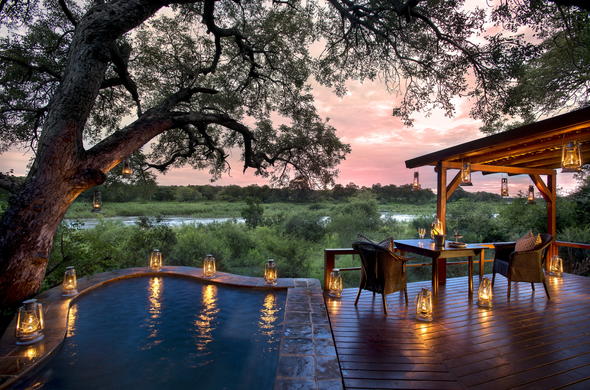 If perchance you happen to be thinking of a honeymoon in South Africa, then Tinga Lodge won't disappoint. A honeymoon safari is supposed to be extravagant and there is nothing at Tinga Lodge that falls short of that expectation.
By Carrie Hampton
Experience the Tinga Grandeur

A thatched cathedral-like entrance greets you at Tinga Lodge, which befits this safari lodge's grand and sumptuous design mix of Afro-colonial and classic gentleman's club. This is achieved with mounted antelope horns, Persian rugs, fine African antiquities and dark leather sofas contrasting with light, wicker terrace chairs.

The whole effect is striking yet understated. Design features are not limited to the interiors: rendered walls around the lodge incorporate African swirls into the plasterwork and a beautifully packed dry-stone wall surrounds the outdoor dining boma.
A larger than life experience

Everything seems bigger here - the swimming pool, the wooden dining deck, the suites with king-size beds and private terraces with plunge pools, and the views from every part of the lodge out across the Sabi River and into the Kruger National Park bushveld. Everything has been thought about and then doubled!
Exclusive Service

With only nine luxury suites, the level of service for the lodge's maximum of eighteen guests is of the highest order. A simple smile from friendly staff starts the day well, but a massage with river stones followed by an exquisitely prepared lunch cannot fail to make your day.
Visit Tinga Lodge.