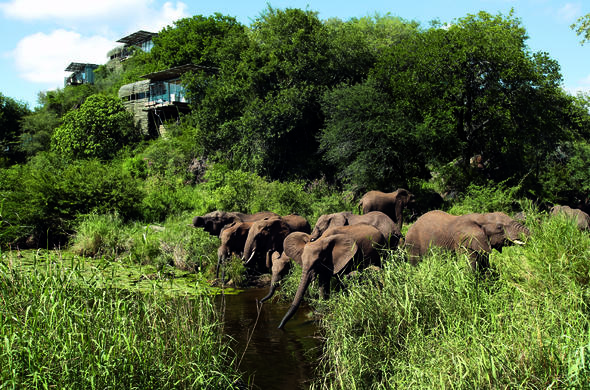 Singita Lebombo is known for its ability to provide exclusivity and privacy, and exactly the right amount of romance for a honeymoon in Africa. The luxury safari accommodation even has a day bed on each private veranda, serenaded by a multitude of birds in the thick trees rising out of the gorge.
By Carrie Hampton
Set in Dramatic Landscapes

Lebombo Lodge, one of eight luxury safari lodges in the Singita stable, is set in one of the most dramatic landscapes in the Kruger National Park in Mpumalanga, offering an abundance of wildlife including the Big Five, antelope, birdlife and a variety of smaller animals.
Eco Friendly Design

'Touch the earth lightly' is Singita's motto, so the entire lodge and individual loft rooms are perched on sturdy wooden frames on the slopes of a riverine gorge.
White canvases billow in the breeze that flows through the open-plan lounge, which is decorated in tones of white, straw, lime green and grey. Being here is like existing inside a magazine photo shoot. Singita Lebombo's cool, trendy appearance would work well beside a palm beach or even in a sun-blessed city, but here is Singita looking perfectly at ease in the heart of the African bush.
Stylish Decor
Singita Lebombo offers a style experience as well as an African safari, and the two make an exquisite combination. The fifteen loft suites sit at various levels on the boulder-strewn slopes and inside is a feast of creative design features. A cascade of glass forms a lampshade; grey and white seeds strung together function as a curtain; a charcoal-grey walk-in mosquito net is tied to a square frame, creating an element of order amidst the frivolity.
Superb Facilities

Many unique decor items can be bought at The Trading Store, which offers experiences to please all the senses. There is even a gym and treadmill, as jogging in lion country is not recommended. Or just relax around the pool until it is time to go and look for the pride of twenty lions in whose territory you are a guest.
Visit Singita Lebombo Lodge