Step into a bygone era of safari luxury accommodation at Jock Safari Lodge, which takes its name from the loyal little Staffordshire bull terrier made famous in book and film.
By Carrie Hampton
Inspired by Courage

Jock Safari Lodge takes its theme from a well-known personality in this southern part of the Kruger National Park: a feisty Staffordshire bull terrier named Jock. This characterfull dog was the central character in Sir Percy Fitzpatrick's animal classic Jock of the Bushveld. He is the South African version of Lassie, with all the same qualities of courage and loyalty to his owner, a store man, prospector's hand, journalist and transport-rider during the gold-rush days of the 1880s.
Inspired by a Bygone Era

Jock Safari Lodge celebrates this little dog with statues and recreates the old-world atmosphere and romance of the era through memorabilia like ox-wagons, historic black-and-white photographs and lantern-lit walkways.

There is nothing old world about the comfort and quality of this luxury South African safari lodge
Each suite has a huge bed, surrounded by walk-in mosquito netting, and lounge chairs looking out over the terrace. A stroll down the wooden walkway leads to a private lapa - an elevated secluded balcony screened by bamboo - which looks directly into the animal-filled bushveld. Vervet monkeys play in the branches and elephants often wander through the dry riverbed, disturbing colourful birds hiding in the riverine thickets.
Catering to Every Desire

With all the amenities at Jock's there is barely any need to leave the suite, even in the heat of the day, as you have your own private plunge pool and outdoor shower. But it is nice to swap notes with others and talk about the day's game sightings.
Relaxing Atmosphere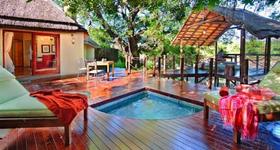 For this, there is good company around the pool-with-a-view, or in the balcony bar of the main lodge, where there is a constant supply of cold drinks. Privacy, exclusivity and safari-style luxury in the heart of Kruger are what you can expect at Jock Safari Lodge.
Read more about Jock Safari Lodge.