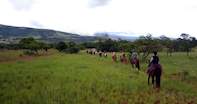 On the Kaapsehoop horse safari, you get the best of a Kruger National Park Open Vehicle Safari combined with Wilderness Horse Riding Adventure.
The mountainous edges of South Africa's highlands are the most romantic places in the country. This is where transport riders first blazed their trails, creating a culture of campfire stories and men who hunted from horseback while living off the land. It is here that the first vast national game reserve was established: the first game rangers were toughened men who fought off lions with pen-knives, lived in primitive conditions and patrolled an area the size of Belgium to protect their animals.
What the gold-miners, the transport riders and the game rangers had in common was that they lived on horseback - and now you have the chance to see the country of dreams just as they did.
Day 1: Kaapsehoop Horse Trails, Mpumalanga
You are met at the Kruger Mpumalanga International Airport and transferred to Kaapsehoop Horse Trails (1 hour drive). Check in to the farm-style accommodation and enjoy a light lunch. Introduction to the horses, guides and the facilities and a sunset introduction ride.
Day 2: Wilderness Trail
Early risers can observe the horses being herded in by motorcycle. Breakfast is enjoyed while the horses are being prepared for the morning ride. After a 2-3 hour ride, lunch is served back at the stables followed by some time to relax before the afternoon ride takes guests along a different route on the 17000 ha farm. Have a delicious dinner and overnight.
Day 3: Blue Swallows Reserve, De Kaap Valley
On the third day of the horse safari, you eat breakfast and depart on a morning ride. Lunch is followed by a visit to the Blue Swallows Reserve for sighting of the Adams Calendar site. Enjoy magnificent views overlooking the De Kaap Valley and the Kaapsehoop wild horses. Return to the bush camp and get some rest before your next day of adventure.
Day 4: Kruger National Park
You get an early start along the escarpment back to Kaapsehoop Horse Trails where the clients will enjoy lunch and depart for the Kruger Park in an open game drive vehicle (1.5-hour drive). Enter the Kruger Park and start searching for the many animals and birds including the famous Big Five (leopard, lion, elephant, rhino, buffalo). Overnight in comfortable accommodation.
Day 5: Kruger National Park
Again an early start with your ranger searching for those animals that were not seen the day before on your 7-day horse safari, breakfast then relax in the midday heat with a little siesta, lunch and a late afternoon drive. Dinner and overnight back at Hippo Hollow, perhaps spending the evening with traditional Shangaan dancers, beating on the drums and stirring deep emotions of Africa.
Day 6: Kruger National Park
Today offers more adventure, with your esteemed ranger showing you the smaller secrets of the bush. A diversity of fauna and flora abound in the bushveld and make for interesting bird-viewing, as well as spotting creatures belonging to the lesser known 'Little 5'. Breakfast and lunch will once again be enjoyed at one of the picnic spots or restaurants in the park. You will return to your accommodation at sunset and enjoy sundowners before dinner and a last night listening to the sounds of Africa.
Day 7: Kruger Mpumalanga International Airport
You return to the Kruger Mpumalanga International Airport (KMIA) after a short morning game drive so that you can bid goodbye to the bush and to the friends you have made on this week-long horse safari adventure.
What to bring
Riding and safari clothing, prepare for hot and cold conditions
Sleeping bag
Footwear, sandals
Swimming gear
Hat for riding and sun - a fitted riding hat is recommended
Sun block and cream
Camera
Flashlight
Malaria prophylaxis
Need to Know
Clients will be sharing accommodation
Languages - English and Afrikaans
Riding weight - Maximum 95kg
Ability riders must be experienced riders able to walk, trot and be comfortable in a strong canter
Diet requirements - Clients are to advise any special diet requirements
Flights - International and Local - For client's own account
Horses - Crossbred Horses that are used will be allocated to the rider's ability
The safari vehicle is a 10 seat open game viewer, weather proof, with high back
Saddles: English and trail saddles are used
Liability:  All clients are to have updated travel and medical insurance.