SANParks opposes proposal to mine coal at Mapungubwe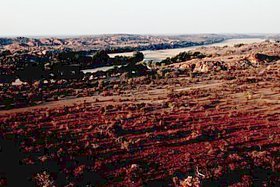 South African National Parks (SANParks) is challenging an application for a R3 trillion mining operation to be established at the entrance to the Mapungubwe World Heritage Site reports Tshwarelo eseng Mogakane of Bua News. SANParks spokesperson Wanda Mkhutshulwa said that SANParks was opposed to the idea as it threatened the environment around Mapungubwe, particularly the quality of its water.
"We are currently engaging the department of minerals and energy over the concerns that we have as SANParks. We are concerned about the impact the mining will have on the national park," said Mkhutshulwa. "Our mandate is to look after the park and ensure that the environment surrounding it is protected. From our view, the mining project will have a negative impact on the water in the park." She said meetings between SANParks and the department of minerals and energy (DME) would be held soon to discuss the concerns further.
DME spokesperson Bheki Khumalo stressed that the mining project was not a done deal."Coal of Africa has applied for mining rights with the department. This is an ongoing process. After all objections have been registered and all concerns considered the department will make a determination. We are still months away from that," said Khumalo.
The Mapungubwe National Park, situated near Musina in Limpopo, is not only a game reserve, but is also home to the archaeological treasure of Mapungubwe, a kingdom predating that of Great Zimbabwe. Mapungubwe was the base of a trading empire that traded with the people of China, India, Egypt and Persia, exchanging ivory and gold around the year 1200.
Mapungubwe National Park manager Tshimangadzo Nehemani said the park would lose its mid- dle class market which has grown enchanted by the mystical allure of Mapungubwe. "Our 2008/2009 tourist statistics show that we had 26 000 visitors, 76 percent of whom were locals while 75 percent were black," said Nehemani. A much-awaited interpretation centre will open by the end of this year, giving the public access to priceless gold work uncovered at the site, including the world-famous and exquisitely crafted tiny golden rhino, a gold sceptre and gold bowl. JSE-listed mining company Coal of Africa (CoAL) presented a scop- ing report at a community meeting of about 150 people on April 16, in which it stated that the Vele Mining Project, which would be a combination of an open cast and underground coal mine, would cre- ate jobs and inject investment into the province. Chief operations officer Riaan van der Merwe said the project would create about 14 000 direct and indirect employment opportunities or benefits during the construction phase and around 30 000 direct and indirect jobs during the operational phase. But local business owners have complained that the scoping report failed to address concerns raised at previous meetings. Among the concerns was the issue of an environmental impact assess- ment study on how the Musina roads would be affected by coal-hauling trucks and dust from the coal. "We have such a beautiful environ- ment here. The atmosphere is clean and all of that will be wiped out by the coal business," said Paul Hatty, manager of Mopane Bush Lodge which is situated about seven kilome- tres from the proposed mining site. Hatty said his lodge drew over 100 international tourists per month who routinely visited the world heritage site. "We will lose our clients as no sane person will pay money to be swal- lowed by coal dust," he said. Vhembe district municipal coun- cillor Mapulanka Baloi welcomed the proposal, saying it would benefit many people. "Coal of Africa has been consist- ent in its approach to this project since inception and we are excited about the prospect of them coming to Limpopo. The mine will create new levels of economic development and employment and bring the province to a new level of prosper- ity," said Baloi.
PROTEST ACTION
PROTEST ACTION In protest against the proposed mining venture, scientists and other savanna experts attending the seventh annual science-networking meeting held in Skukuza signed a petition to be forwarded to the department of environmental affairs and tourism. About 230 delegates attended the well-respected five-day conference on savanna ecology.