Mapungubwe Interpretation Centre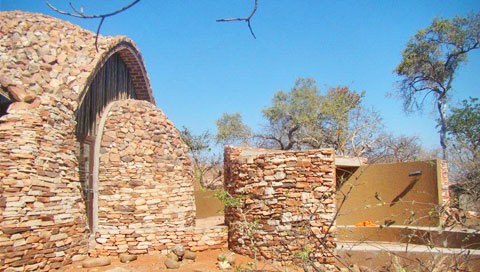 The new Interpretation Centre at the Mapungubwe National Park and World Heritage Site is becoming increasingly popular and has clocked its 343 visitor. The Centre complements the Park's interpretive programme in support of tourism and multi-disciplinary conservation education. It is situated near the main gate of the Mapungubwe National Park and won the building of the year competition in 2009. It is also home to the famous Mapungubwe golden rhino.
The construction of the centre was a poverty relief project, using ecological methods and materials. The project agenda extended beyond presentation of the ancient and more recent history of the area to awaken an understanding of the vulnerability of the local ecology.
"These objectives were manifested in the construction process of the centre during which unemployed local youth were trained," said Fhatuwani Mugwabana, Mapungubwe National Park Manager.
The Mapungubwe Cultural Landscape has been occupied by diverse groups for over 500 000 years.
Between about 900 and 13000 AD it was the centre of the first powerful indigenous kingdom in Southern Africa and laid the foundation for subsequent class-based and settlement patterns in the region. The landscape retains evidence of the lives, values and belief systems of those who inhabited it, their interactions with each other, others and the environment.
The centre showcases the amazing landscape that the national park has to offer. Visitors that wish to go on tour will pay R40.00 an adult and R20.00 a children, and will receive a discounted rate on the tour to Mapungubwe Hill when visiting the Centre.